Disease-resistant cassava released in Nigeria
Tuesday, 14 June 2011 11:47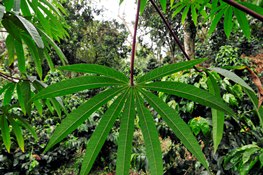 Download
e-publication
Umudike, Nigeria – The Generation Challenge Programme (GCP) of the Consultative Group on International Agricultural Research is pleased to announce the release of a new disease-resistant high-yielding cassava variety by one of our partners – the National Root Crops Research Institute (NRCRI) at Umudike, Nigeria, working in close collaboration with Centro Internacional de Agricultura Tropical (CIAT).
Dubbed UMUCASS33 and released in December 2010, this new variety brings together the best from South American and African cassava. South America is cassava's centre of origin. South American cassava has a higher nutritional content, while African cassava tends to be more resilient to pests, disease and harsh environments. CIAT provided the South American cassava, while the local variety resistant to cassava mosaic disease (CMD) was developed from material obtained from the International Institute of Tropical Agriculture
"This is a first great example of a practical application of marker technology in cassava for the selection of important new traits, and it bodes well for the future as markers get fully integrated into cassava breeding."
(IITA). The end result of this happy marriage was higher yields and tolerance to acid soils conferred from the South American parentage, and CMD disease resistance from the African side of the family tree.
Nigeria is the world's leading cassava producer and consumer, but yields are suboptimal, decimated by CMD, amongst other diseases, pests and problems. CMD alone routinely reduces cassava production by as much as 90 percent. Besides bringing higher yields and greater disease resistance, UMUCASS33 also broadens the genetic diversity of African cassava. "Diversity studies on cassava in Africa revealed that the genetic base is very narrow, meaning cassava can easily succumb to disease en masse," says Dr Chiedozie Egesi, plant breeder and molecular geneticist at NCRCI. The IITA-led GCP-funded diversity studies were conducted in conjunction with selected partners in cassava-growing regions in Central, East and West Africa.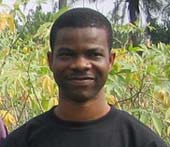 "This is an eye-opener and demonstrates the power of molecular tools, and what they can do for plant breeding."
"We know the pedigree of UMUCASS33, bred from the best of CIAT's elite cassava lines using marker-assisted selection, which were then backcrossed with hardy and disease-resistant local cassava," Dr Egesi (pictured ) reveals. "Previous efforts with pure South American cassava were unsuccessful because South American cassava could not survive in Africa, so crossing with the local variety was absolutely necessary. UMUCASS33 will provide parents for further breeding work, including for cassava green mite resistance and drought tolerance."
Commenting on the release, Dr Xavier Delannay, GCP's Leader for Integrated crop breeding and manager of the Cassava Research Initiative said, "This is a first great example of a practical application of marker technology in cassava for the selection of important new traits, and it bodes well for the future as markers get fully integrated into cassava breeding."
"Cassava, a vegetatively propagated crop, is difficult to breed due to its low propensity for flowering," adds Dr Larry Butler, GCP's Product Delivery Leader. "Development of improved varieties is hampered by the formidable amount of time required for conventional breeding and phenotyping methods. The release of UMUCASS33 is a perfect example of how the use of molecular tools efficiently exploited the potential of divergent sources of traits, while reducing the time required for development."
Standing tall and taste to match
Savanna
University of Nigeria, Nsukka (derived savanna)
Ahmadu Bello University, Zaria (northern Guinea savanna)
Federal University of Technology, Minna (southern Guinea savanna)
National Root Crops Research Institute, Otobi (southern Guinea savanna)
Forest–savanna transition
International Institute for Tropical Agriculture
Forest and humid zones
University of Uyo, Uyo (humid forest)
Institute of Agricultural Research Training, Ikenne station (humid forest)
Ebonyi State University, Abakaliki (humid zone)
National Root Crops Research Institute, Umudike (humid Forest)
Partners across the testing locations
Root and Tuber Expansion Programme
Various State agricultural development programmes (ADPs)
Farmers in the various locations
Needless to say, farmer perspectives and preferences are an indispensable factor for any new variety to grow and spread in farmers' fields, and researcher priorities alone are not enough. A variety may be 'scientifically perfect' (based on a researcher's perspective) but fail the farmer or consumer test in terms of say, taste, texture, colour or starchiness. Failing the farmer or consumer test means farmers will not grow it. UMUCASS33, beyond its higher yields and CMD resistance, has other critical qualities that appeal to farmers in Nigeria. UMUCASS 33 has a good erect architecture: it is late in branching (forking) and does not have lateral branches. Most farmers like this plant architecture morphotype which is compatible with their cropping systems because they tend to intercrop cassava with other crops. Unlike most South American varieties that tend to fail the taste test with African farmers, UMUCASS33 is highly palatable and appeals to local preferences. Of the three cassava lines obtained from CIAT and advanced to the final stage, UMUCASS33 scored highest on all the parameters tested by both farmers and researchers. Another set of five lines from GCP-funded MAS-bred varieties (developed jointly by CIAT and NRCRI) have advanced to the final stages in Nigeria, including one already in pre-release on-farm trials since 2010, and approaching selection for official registration. MAS stands for marker-assisted selection.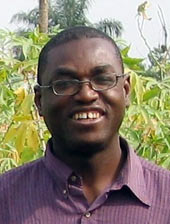 "With the help of markers, we are injecting new South American germplasm into African germplasm, which is vital for expanding the narrow genetic pool."
"UMUCASS33 yields as much as 40 percent more, depending on the agroecology. This percentage is even higher when compared to local unimproved landraces," says Dr Emmanuel Okogbenin (pictured), a molecular breeder and geneticist, and the project team leader at NRCRI.
Two sides of the same coin, and passing on the baton
Tools alone will not get the job done. "Breeding is by nature collaborative work with multiple locations and partners," observes Dr Okogbenin. In this regard, partnerships fostered through the GCP-funded project with CIAT and country partners in Africa played a major and indispensable role. The project was in two phases, with the first on development of low-cost technologies led by CIAT (2005–2007). The second phase involved the GCP-supported cassava breeders community of practice (CoP) in Africa, and was led by NRCRI (2008–2010). This second phase – among other objectives – focused on validating MAS-bred genotypes for resistance to both cassava mosaic disease (CMD) and cassava green mite (CGM), and to promote marker-assisted breeding (MAB),by building on the foundation laid by the previous project.
The pre-release trials involved multi-site trials in partnership with several research organisations, as well as on-farm adaptive trials with farmers (see box on testing locations). "We are more productive working together, and we could not have succeeded with UMUCASS33 working alone." He adds, "Molecular breeding is not just about genotypic data. Phenotypic data are just as important. UMUCASS33 will be used to breed other improved varieties. To assess the potential for this new work, good information is mandatory to help in making the right choices of parents for breeding, and in designing the appropriate breeding scheme. Laboratory work has to go hand-in-hand with the fieldwork, and it is the combination of both that informs and underpins successful breeding."
New horizons, new opportunities
NRCRI has a modest molecular breeding laboratory that was established in 2005 with GCP funding, with additional support from the International Atomic Energy Agency and the Nigerian government. A pioneer in Nigeria, the laboratory has served as a national reference point, demonstrating the power and potential of molecular breeding.
"I am privileged to be involved in the dramatic change in the research landscape in Nigeria, and the advent of modern approaches to breeding. The laboratory opened up a new sphere in breeding for us, introducing an intermediate critical layer between the breeder and the fieldwork," says Dr Okogbenin. "But we cannot handle large volumes in our laboratory, and we will rely on GCP's Integrated Breeding Platform for this." He adds that IBP's ability to handle high-throughput genotyping is very significant for boosting developing-country research. With its high-precision tools and services, molecular approaches greatly accelerate the breeding process, and this without the undesirable accuracy vs speed tradeoffs.
"Even though this has not been quantified, I can confidently say that with molecular breeding, NRCRI has taken a giant step forward," Dr Okogbenin asserts. "It has completely changed our research approach. When you show a willingness to catch up with the new order in the world of plant breeding, you are more likely to be perceived as a major contributor and attractive partner in plant science research and development." He continues, "This work in molecular breeding has opened up not only new opportunities for faster delivery of improved varieties to farmers, but also opportunities for international collaboration such as the BioCassavaPlus worldwide initiative and working with the CGIAR HarvestPlus Challenge Programme on nutrient-rich cassava."
Going further faster together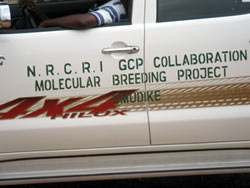 On cars, cassava and the NRCRI–GCP collaboration: mobile molecular movement says it all!
"Africa cannot afford to be left behind. We must maximise on the use and reuse of resources. We share similar agroecologies with Ghana and we have sent them some cassava breeding material through the CoP," Dr Okogbenin reveals. In GCP's model, CoPs are intended to help country programmes take up products from GCP – and from elsewhere – that will help them improve their breeding projects by adopting modern breeding strategies.
Dr Egesi adds that the Economic Community of West African States (ECOWAS) is developing new seed systems whereby member countries will participate in – and benefit from – the development of new crop varieties at subregional level. "Under this new ECOWAS mechanism, once a variety is released in, say Nigeria for example, countries with similar agroecological zones only need to apply for local release without undergoing local testing," he says. This new development will contribute to the pan-African Programme for African Seed Systems (PASS), coordinated by the Alliance for a Green Revolution in Africa (AGRA).
What next, and the missing link
Researchers in the developing world sometimes find themselves facing a yawning gap in the research–development continuum. "The story does not end with successfully identifying promising varieties on-station and in farmers' fields. In fact, that is sometimes the very beginning," Dr Egesi observes. Government funding is not always forthcoming for the mandatory national performance trials, while most project funding does not extend downstream to these types of trials. Yet no variety can be released without these trials. In the absence of funding for this final link, viable varieties sometimes end up trapped on the shelf and fail to reach the farmers who need them. Such undesirable situations easily negate all the considerable upstream investments and efforts in marker-assisted selection and related costs.
Initiatives such as the new ECOWAS regional release above will go some way towards alleviating the problem by minimising unnecessary duplication of efforts in pre-release testing, but the difficulty of initial release still remains. Besides Ghana, UMUCASS33 would also thrive in Côte d'Ivoire and Togo, which are both ECOWAS members.
The bottleneck of initial release can also be partially overcome. "Product delivery is very high on our agenda in Phase II." says Dr Jean-Marcel Ribaut, the GCP Director. "We have set aside some modest supplementary funds dedicated to packaging products from GCP-funded research to move them further down the research–development pathway to the next set of users. As such, GCP would be willing to consider funding national performance trials for priority cases, to ensure that promising pre-release improved varieties reach the farmers who need them."
For more information:
Contact This email address is being protected from spambots. You need JavaScript enabled to view it. or This email address is being protected from spambots. You need JavaScript enabled to view it. (National Root Crops Research Institute)
Facts and figures on UMUCASS 33: based on Technical Subcommittee (TSC) descriptors of Nigeria's National Variety Release Committee. UMUCASS33hotos on 2nd page