Cassava ready for a close-up after 'research make-over' in Ghana
Monday, 05 May 2014 09:46
Want to know what's 'in' in crop science this planting season? Check out our latest blogpost on the very latest in the world of cassava in Ghana, where GCP researcher and cassava style guru, Elizabeth Parkes (Crops Research Institute [CRI] of Ghana's Council for Scientific and Industrial Research [CSIR], currently on leave of absence at the International Institute of Tropical Agriculture [IITA]), has been at the forefront of a research make-over for cassava.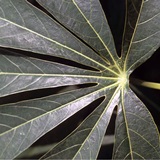 Chic shot: cassava leaf up close

In this post, Elizabeth explains how she was able to deal with the 'difficult dour diva' of crop science, enduring its tricky genetics and long-season, labour-intensive habits, and combatting pests and disease, together with a dedicated team of cassava students and researchers under her expert tutelage. Add in some GCP molecular-breeding know-how, infrastructure support and capacity-building initiatives to bloom and grow…for both cassava plants as well as Elizabeth's human charges! More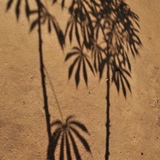 Cassava leaves cast some stylish shadows


We are family: the science sisterhood and cassava capacity building
In case you missed it the first time around (as part of our International Women's Day celebration of sisters in science), here's another look at an alternative blogpost profiling the life and work of Elizabeth Parkes, chronicling her inauguration into the world of science, and subsequent rise to Lead Researcher for GCP's cassava work in Ghana. The post also focuses on GCP-funded infrastructure, professional development, uptake of molecular tools by local staff in Ghana, and more. Mix in the invaluable boost of GCP's Genotyping Support Service (GSS), Communities of Practice (CoPs), and training and use of GCP's Integrated Breeding Platform to tap a wealth of sequencing data, and you have a cassava breeding team to reckon with! More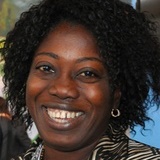 Elizabeth Parkes
Alternatively, you can tune in to the podcasts narrated by Elizabeth where she delivers an all-inclusive engaging story on the importance to agriculture of women scientists, women farmers, and cassava the wonder crop. Choose episodes 4.1–4.4 for specific slices, and 4.0 for the full helping!
Episode 4.1 – Why supporting women matters – and will prove to pay dividends

Episode 4.2 – Women scientists who are having their (cassava) cake and eating it too, thank you very much!

Episode 4.3 – On the ground: How women farmers with large-scale ambitions are ruling the roost in small-scale agriculture

Episode 4.4 – Calling all budding crop researchers, particularly women! These are exciting times, especially for cassava!

Episode 4.0 (full episode) – Introducing cassava researcher Elizabeth Parkes – a female force to reckon with!
Links – Cassava: Research Initiative | Products | Community of Practice | InfoCentre | Blogposts