CGIAR Consortium attains International Organisation Status
Friday, 02 March 2012 08:52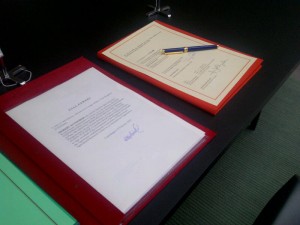 It's official! The CGIAR Consortium has today attained International Organisation Status, after officials put pen to paper in Paris, France, today, 2nd March 2012.
Mr Carlos Perez del Castillo, the CGIAR Consortium Board Chair, said, "Achieving International Organization status and recognition is a major step towards enabling the reformed CGIAR to deliver research resulting in real impact; improved food security, health and nutrition alongside sustainable management of natural resources. This status will allow the Consortium to operate as an independent organisation, speak with one voice at an international level, establish better partnerships and raise awareness of its work at a time when agricultural research is key to the survival of a billion people."
Over the past four decades, CGIAR has proven that investing in agricultural research is cost-effective in fighting hunger and malnutrition. For example, in the late 1980s, the CGIAR's research on biological control of the cassava mealy bug - a pest which was destroying harvests in sub-Saharan Africa - saved at least 20 million lives for a total cost of only US$20 million. In other words, for every dollar invested, a life was saved.
Since 2010, the CGIAR has been undergoing fundamental reform to ensure that their research delivers clear impacts such as the one above. With the Consortium becoming an International Organisation from today, this not only endorses the strategic reform, but by facilitating fundraising and coordination, it will catalyse the impact-oriented research essential to the lives of millions of smallholder farmers.
Read more on this auspicious event and its implications in the press releases at the CGIAR Consortium website in English and French.
And for why it pays to invest in the CGIAR,

CGIAR Fund March 2012.