Victors over vectors: Improving cassava for Africa
Friday, 06 August 2010 19:00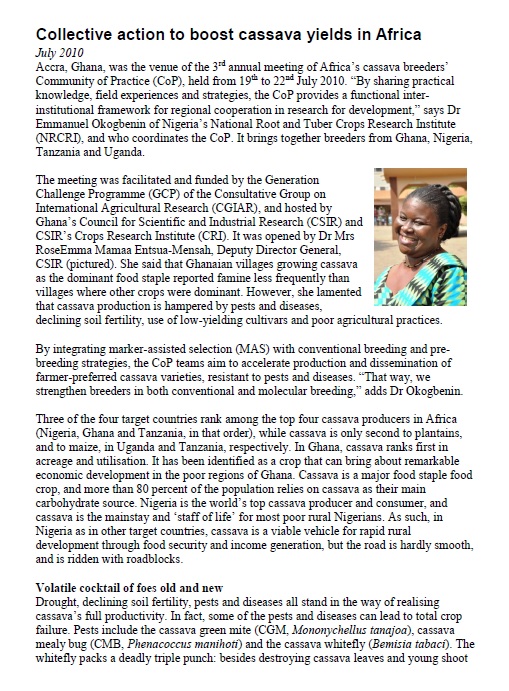 July 2010 was 'cassava month' at GCP, with three key meetings.
Accra, Ghana, was the setting for all three events, kindly hosted by the Crops Research Institute (CRI) of Ghana's Council for Scientific and Industrial Research (CSIR). The first two events ran simultaneously. The Cassava Data Management Workshop was from 19th to 21st July. Participants were instructed in the art of data management strategies for GCP's cassava projects by Arllet Portugal; The 3rd annual meeting of the cassava breeders in Africa's Community of Practice (CoP) was from 19th to 22nd July, and was opened by Dr Mrs RoseEmma Mamaa Entsua-Mensah, Deputy Director General, CSIR.
The CoP meeting brought together a fine array of speakers from the cassava breeding world. This meeting included an in-depth analysis on the status of cassava breeding in Ghana, Nigeria, Uganda and Tanzania. Three of these four countries rank among Africa's top four cassava producers. Read more
The final event from 23rd to 24th July, was the Cassava Challenge Initiative (CI) Launch Meeting, officiated by Hon Sherry Ayitey, Ghana's Minister for Environment, Science and Technology, who gave the keynote address and officially launched the CI, and by Dr Abdulai B Salifu, Director General, CSIR, who gave the welcome address. The opening session for the CI meeting was chaired by Dr Hans Adu-Dapaah, CRI Director. Read more
The cassava breeding community in Africa is indeed rising to the challenge to fortify 'Mother Cassava', the crop of hope.