Improving cassava yield in Africa's drought-prone environments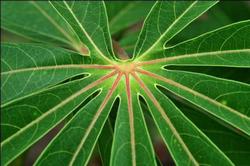 This project expands on earlier work to map genes responsible for cassava mosaic disease (CMD) resistance by identifying additional sources for resistance to CMD, as well as to other biotic stresses. It also incorporates a cassava breeders' community of practice (CoP) that focuses on the application of molecular breeding for variety development. This effort is spearheaded by Nigeria's National Root Crops Research Institute (NRCRI) in collaboration with other country programmes in Ghana, Tanzania and Uganda, as well as CIAT and IITA.
The project also focuses on drought tolerance. Borrowing from the development of a new marker-assisted recurrent selection (MARS) approach for other crops, MARS for cassava will be implemented in Nigeria and Ghana.
Overall objective
Marker–trait association to enhance breeding efficiency through QTL mapping for pest and disease resistance, and stacking of favourable alleles affecting yield and yield components, particularly under water-limited environments.
More information
Projects in the Cassava RI are on the links on the left.
Visit the Cassava InfoCentre for cassava research databases,facts and figures, feature stories, blogposts and videos, and more.
Through our Product Catalogue, browse what we offer for cassava.