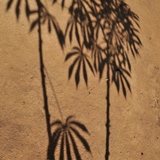 Now it's time for a tale…with a tail! Meet cassava, the original camel crop, a truly well-travelled trekker, who first arrived on African shores back in the 16th Century. Since then cassava has shown its mettle as the dromedary of crops, consistently fending off drought to become the key staple in Nigeria, familiar on the family table.
And so, where better to tell cassava's tale? To this land we go, to hear from Chiedozie Egesi, plant breeder and geneticist at Nigeria's National Root Crops Research Institute (NRCRI).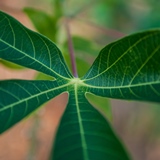 Viewers can choose to hear the cassava chronicle all in one go by watching the full-length video Q&A on cassava research in Africa with Chiedozie Egesi, or they can choose their sample from the following five vignettes:
Part 1: Is cassava critical? On the very nature of cassava and its potential
Part 2: Enhancing knowledge and infrastructure, focussing on the NRCRI–GCP partnership, and the business of crop research and breeding
Part 3: GCP's Integrated Breeding Platform (IBP) is under Chiedozie's spotlight, shining most brightly on developing nations
Part 4: Molecular breeding adds, attracts and multiplies – Chiedozie works out some tricky equations involving molecular breeding, partners, young scientists and making dreams come true!
Part 5: Pyramids & pathogens, partnerships & power. The final episode hones in on creating the cassava 'super-plant' and the art of declaring war on pathogens with the aid of a crack force of disease-fighting 'guerrilla' genes! Our narrator finishes by sharing his secret ingredients for the perfect potion of powerful products and partnerships.
But there's much more than video to tell cassava's tale, and Chiedozie's role. See the links below: