Each year, millions of people in Senegal go hungry for several months, many surviving on no more than one meal a day. Locals call this time soudure – the hungry period. It typically lasts from June through to September, when previous winter and spring cereal supplies are exhausted and people wait anxiously for a bountiful autumn cereal harvest.
During this period, a bowl of fresh green cowpea pods once a day is the best that many people can hope for. Cowpeas are the first summer crop to mature, with some varieties ready to harvest in as little as 60 days.
While cowpeas provide valued food security in Africa, yields remain low. In Senegal, average cowpea yields are 450 kilograms per hectare, a mere 10–30 percent of their potential. This poor productivity is primarily because of losses due to insects and diseases, but is sometimes further compounded by chronic drought.
In 2007, the CGIAR Generation Challenge Programme (GCP) brought together a team of plant breeders and geneticists from Burkina Faso, Mozambique, Nigeria, Senegal and the USA to collaborate on cowpea. Their goal was to breed varieties that would be higher yielding, drought tolerant and resistant to pests and diseases, and so help secure and improve local cowpea production in sub-Saharan African countries.
Cowpea production – almost all of it comes from Africa
A type of legume originating in West Africa, cowpeas are also known as niébé in francophone Africa and as black-eyed peas in the USA.  They are well adapted to drier, warmer regions and grow well in poor soils. In Africa, they are mostly grown in the hot, drought-prone savannas and very arid sub-Saharan regions, often together with pearl millet and sorghum.
Nutritionally, cowpeas are a major source of dietary protein in many developing countries. Young leaves, unripe pods and peas are used as vegetables, and the mature grain is processed for various snacks and main meal dishes. As a cash crop, both for grain and animal fodder, cowpea is highly valued in sub-Saharan Africa.
Worldwide, an estimated 14.5 million hectares of land is planted with cowpea each year. Global production of dried cowpeas in 2010 was 5.5 million tonnes, 94 percent of which was grown in Africa.
"In Senegal, cowpeas cover more than 200,000 hectares," says Ndiaga Cissé, cowpea breeder at L'institut sénégalais de recherches agricoles (ISRA; Senegalese Agricultural Research Institute). "This makes it the second most grown legume in Senegal, after groundnuts."
In 2011, Senegal experienced its third drought within a decade. Low and erratic rainfall led to poor harvests in 2011 and 2012: yields of cereal crops (wheat, barley and maize) fell by 36 percent compared to 2010. Consequently, the hungry period in 2012 started three months earlier than usual, making gap-fillers like cowpea even more important. In fact, cereal production in sub-Saharan African countries has not seen substantial growth over the last two decades – total area, yield and production grew by only 4.3 percent, 1.5 percent and 5.8 percent, respectively.
Climate change is expected to further compound this situation across sub-Saharan Africa. Droughts are forecast to occur more frequently, weakening plants and making them more vulnerable to pests and diseases.
"Improved varieties of cowpeas are urgently needed to narrow the gap between actual and potential yields," says Ndiaga. "They will not only provide security to farmers in the face of climate change, but will also help with food security and overall livelihoods."
Mapping the cowpea genome
For over 30 years, Phil Roberts, a professor in the Department of Nematology at the University of California, Riverside (UCR), has been breeding new varieties of cowpea. "UCR has a long history of research in cowpea breeding that goes back to the mid-seventies," explains Phil. "One of the reasons we were commissioned by GCP in 2007 was to use our experience, particularly in using molecular breeding, to help African cowpea-breeding programmes produce higher yielding cowpeas."
For seven years, Phil and his team at UCR coordinated the cowpea component of the Tropical Legumes I (TLI) project led by GCP (see box below).  The objective of this work was to advance cowpea breeding by applying modern, molecular breeding techniques, tools and knowledge to develop lines and varieties with drought tolerance and resistance to pests and diseases in the sub-Saharan African countries Burkina Faso, Mozambique, Nigeria and Senegal.
The molecular breeding technology that UCR uses for cowpeas is based on finding genes that help cowpea plants tolerate insects and diseases, identifying markers that can indicate the presence of known genes, and using these to incorporate valuable genes into higher yielding varieties.
"Using molecular breeding techniques is a lot easier and quicker, and certainly less hit-or-miss, than conventional breeding techniques," says Phil. "We can shorten the time needed to breed better adapted cowpea varieties preferred by farmers and markets."
Phil explains that the first priority of the project was to map the cowpea genome.
"The map helps us locate the genes that play a role in expressing key traits such as drought tolerance, disease resistance or pest resistance," says Phil. "Once we know where these genes are, we can use molecular marker tools to identify and help select for the traits. This is a lot quicker than growing the plant and observing if the trait is present or not."
To use an analogy, think of the plant's genome as a story: its words are the plant's genes, and a molecular marker works as a text highlighter. Molecular markers are not precise enough to highlight specific words (genes), but they can highlight sentences (genomic regions) that contain these words (genes), making it easier and quicker to identify which plants have them. Traditionally, breeders have needed to grow plants to maturity under appropriately challenging conditions to see which ones are likely to have useful traits, but by using markers to flag valuable genes they are able to largely skip this step, and test large amounts of material to choose the best parents for their crosses, then check which of the progeny have inherited the gene or genes.
Breeding new varieties faster, using modern techniques
The main focus of the cowpea component in TLI was to optimise marker-assisted recurrent selection (MARS) and marker-assisted backcrossing (MABC) breeding techniques for sub-Saharan African environments and relevant traits.
MARS identifies regions of the genome that control important traits. In the case of cowpeas, these include drought tolerance and insect resistance. It uses molecular markers to explore more combinations in the plant populations, thus increasing breeding efficiency.
MABC is the simplest form of marker-assisted breeding, in which the goal is to incorporate a major gene from an agronomically inferior source (the donor parent) into an elite cultivar or breeding line (the recurrent parent). Major genes by themselves have a significant effect; it's therefore easier to find a major gene associated with a desired trait, than having to find and clone several minor genes. The aim is to produce a line made up almost entirely of the recurrent parent genotype, with only the selected major gene from the donor parent.
Using the genome map and molecular markers, the UCR team identified 30 cowpea lines with drought tolerance and pest resistance from 5,000 varieties in its collection, providing the raw material for marker-assisted breeding. "Once we knew which lines had the drought-tolerance and pest-resistance genes we were looking for, we crossed them with high-yielding lines to develop 20 advanced cowpea lines, which our African partners field tested," says Phil.
The lines underwent final field tests in 2014, and the best-yielding drought-tolerant lines will be used locally in Burkina Faso, Mozambique and Senegal to develop new higher yielding varieties that will be available to growers by 2016.
"While we are still some time off from releasing these varieties, we already feel we are two or three years ahead of where we would be if we were doing things using only conventional breeding methods," says Ndiaga.
The genome map and molecular markers have helped cowpea breeders like Ousmane Boukar, cowpea breeder and Kano Station Representative with the International Institute of Tropical Agriculture (IITA), headquartered in Nigeria, to locate the genes in cowpeas that play a role in expressing desirable traits.
Ousmane, who was GCP's cowpea Product Delivery Coordinator, says, "We have used this technology to develop advanced breeding lines that are producing higher yields in drier conditions and displaying resistance to several pests and diseases like thrips and Striga. We expect these lines to be available to plant breeders by the end of 2015.
"TLI has had a huge impact in Africa in terms of developing capacity to carry out marker-assisted breeding," he says. "This form of breeding helps us to breed new varieties in three to five years instead of seven to ten years."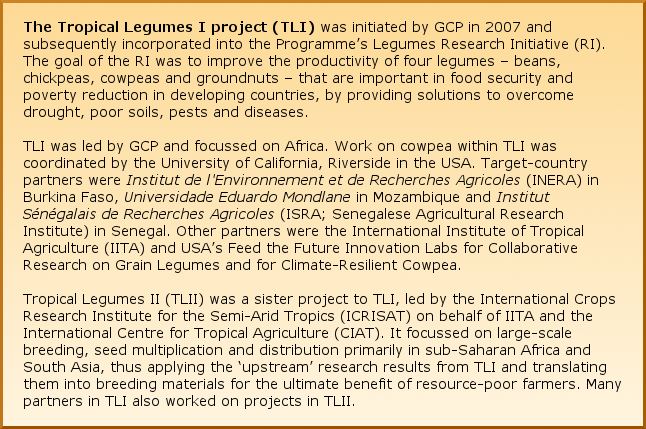 Burkina Faso – evaluating new lines to improve the country's economy
Cowpea is an important crop for the people of Burkina Faso. Over 10 million farmers produce on average 800,000 tonnes of cowpeas each year, making the country the third largest producer in the world, behind neighbours Nigeria and Niger.
Much of Burkina Faso's cowpea crop is consumed domestically, but the government sees potential in increasing productivity for export to Côte d'Ivoire and Ghana in the south. This new venture would improve the country's gross domestic product (GDP), which is the third lowest in the world.
"The government is very interested in our research to improve cowpea yields and secure them against drought and disease," says Issa Drabo, lead cowpea breeder with the Institut de l'Environnement et de Recherches Agricoles (INERA) in Burkina Faso.
"We've been working closely with UCR to evaluate advanced breeding lines that we can use in our own breeding programme. So far we have several promising lines, some of which breeders are using to create varieties for release to farmers – some as early as this year."
Outsourcing the molecular work
Issa says his team has mainly been using conventional breeding techniques and outsourcing the molecular breeding work to the UK and USA. "We send leaf samples to the UK to be genotyped by a private company [LGC Genomics], who then forward the data to UCR, who analyse it and tell us which plants contain the desired genes and would be suitable for crossing."
The whole process takes four to six weeks, from taking the samples to making a decision on which plants to cross.
"This system works well for countries that don't have the capacity or know-how to do the molecular work," says Darshna Vyas, a plant genetics specialist with LGC Genomics. "Genotyping has advanced to a point where even larger labs around the world choose to outsource their genotyping work, as it is cheaper and quicker than if they were to equip their lab and do it themselves. We do hundreds of thousands of genotyping samples a day – day in, day out. It's our business."
Darshna says LGC Genomics have also developed plant kits, as a result of working more with GCP partners from developing countries. "We would receive plant tissue that was not properly packaged and had become mouldy on the journey. The plant kits help researchers package their tissue correctly. The genotyping data you get from undamaged tissue compared to damaged tissue is a thousand times better."
Getting the genotyping expertise on the ground
To reduce their African partners' reliance on UCR, researchers from the university, including Phil, have been training young plant breeders and PhD students from collaborating institutes. Independent of the cowpea project, they have also been joining GCP's Integrated Breeding Platform (IBP) training events in Africa to help breeders understand the new technologies.
"All this capacity building we do really gets at the issue of leaving expertise on the ground when the project ends," says Phil. "If these breeders don't have the expertise to use the modern breeding technologies, then we won't make much progress."
GCP Capacity Building Theme Leader and TLI Project Manager Ndeye Ndack Diop has been impressed by UCR's enthusiasm to build capacity in its partner countries. "Capacity building is a core objective for GCP and the TLI project," says Ndeye Ndack. "While it is built into almost all GCP projects, UCR have gone over and above what was expected of them and contributed towards building capacity not only among its partner institutions, but in many other African national breeding institutes as well."
Issa Drabo reports that in 2014 two of his young researchers from Burkina Faso completed their training in GCP's Integrated Breeding Multiyear Course, conducted by UCR and the IBP team.
One of Issa's researchers at INERA, Jean-Baptiste de la Salle Tignegré, says the course helped him understand more about the background genetics, statistical analysis and data management involved in the process of molecular breeding. "Because of the course, we are now able to analyse the genotype data from LGC," he says.
Mozambique – insects and drought are the problem
In 2010, the Universidade Eduardo Mondlane (UEM) joined the cowpea component of TLI, three years after the project started. "We were a little late to the party because we were busy setting up Mozambique's first cowpea breeding programme, which only began in 2008," recalls Rogerio Chiulele, a lecturer at the university's Faculty of Agronomy and Forestry Engineering and lead scientist for cowpea research in Mozambique for TLI.
That year (2008), UEM received a GCP Capacity building à la carte grant to establish a cowpea-breeding programme for addressing some of the constraints limiting cowpea production and productivity, particularly drought, pests and diseases.
As in Burkina Faso and Senegal, in Mozambique cowpeas are an important source of food, for both protein and profit, particularly for the poor. Cowpeas rank as the fourth most cultivated crop in Mozambique, accounting for about nine percent of the total cultivated area, or an estimated four million hectares of smallholder farms.
Rogerio says that farmers in his country, just as in other parts of Africa, struggle to reach their full yield potential because of climate, pests and diseases. "Several insect pests – such as aphids, flower thrips, nematodes and pod-sucking pests – can substantially reduce cowpea yield and productivity in Mozambique," he says.
"Cowpea aphids can cause problems at any time in the growing season, but are most damaging during dry weather when they infest seedlings that are stressed from lack of water. In wetter parts of the country, flower thrips – which feed on floral buds – are the most damaging insect pest." These insects are also major pests in Burkina Faso and Senegal, along with hairy caterpillar (Amsacta moloneyi), which can completely destroy swaths of cowpea seedlings.
Rogerio says breeding for insect resistance and drought tolerance, using marker-assisted techniques, improves breeders' chances of increased cowpea productivity. "Productivity is key to increasing rural incomes, and new resources can then be invested in other activities that help boost total family income," says Rogerio. "These new breeding techniques will help us achieve this quicker."
Three high-yielding varieties to hit the Mozambique market in 2015
Since 2010, Rogerio's team have quickly caught up to Burkina Faso and Senegal and plan to release three higher yielding new lines with drought tolerance in 2015. One of these lines, CB46, is based on a local cowpea variety crossed with a UCR-sourced American black-eyed pea variety that displays drought tolerance, which potentially has huge market appeal.
"Local varieties fetch, on average, half a US dollar per kilogram, compared to black-eyed pea varieties, whose price is in the region of four to five US dollars," says Rogerio. "Obviously this is beneficial to the growers, but the benefits for consumers are just as appealing. The peas are better quality and tastier, and they take half as long to cook compared to local varieties."
All these extra qualities are important to consider in any breeding programme and are a key objective of the Tropical Legume II (TLII) project (see box above). TLII activities, led by ICRISAT, seek to apply products from TLI to make an impact among farmers.
"TLII focuses on translating research outputs from TLI into tangible products, including new varieties," says Ousmane Boukar, who works closely with Ndiaga, Issa and Rogerio in TLI and TLII.
Building a community of breeders to sustain success
Part of Ousmane's GCP role as Product Delivery Coordinator for cowpeas was to lead a network of African cowpea and soybean breeders, and he champions the need for breeders to share information and materials as well as collaborating in other ways so as to sustain their breeding programmes post-GCP.
"To sustain integrated breeding practices post-2014, GCP has established Communities of Practice (CoP) that are discipline- and commodity-oriented," says Ndeye Ndack. "The ultimate goal is to provide a platform for community problem solving, idea generation and information sharing."
Ousmane says the core of this community was already alive and well before the CoP. "Ndiaga, Issa and I have over 80 years combined experience working on cowpea. We have continually crossed paths and have even been working together on other non-GCP projects over the past seven years."
One such project the trio worked together on was to release a new drought-tolerant cowpea breeding line, IT97K-499-35, in Nigeria. "The performance of this variety impressed farmers in Mali, who named it jiffigui, which means 'hope'," says Ousmane. "We shared these new lines with our partners in Mali and Niger so they could conduct adaptation trials in their own countries."
For young breeders like Rogerio, the CoP has provided an opportunity to meet and learn from these older partners. "I've really enjoyed our annual project meetings and feeling more a part of the world of cowpea breeding, particularly since we in Mozambique are isolated geographically from larger cowpea-producing countries in West Africa."
For Phil Roberts, instances where more-established researchers mentor younger researchers in different countries give him hope that all the work UCR has done to install new breeding techniques will pay off. "Young researchers represent the future. If they can establish a foothold in breeding programmes in their national programmes, they can make an impact. Beyond having the know-how, it is vital to have the support of the national programme to develop modern breeding effort in cowpea – or any crop."
Setting up breeders for the next 20 years
In Senegal, Ndiaga is hopeful that the work that the GCP project has accomplished has set up cowpea breeders in his country and others for the next 20 years.
"Both GCP's and UCR's commitment to build capacity in developing countries like Senegal cannot be valued less than the new higher yielding, drought-tolerant varieties that we are breeding," says Ndiaga. "They have provided us with the tools and skills now to continue this research well into the future.
"We are close to releasing several new drought-tolerant and pest- and disease-resistant lines, which is our ultimate goal towards securing Senegal's food and helping minimise the impact of the hungry period."
More links