Across Africa, governments and scientists alike are heralding groundnuts' potential to lead resource-poor farmers out of poverty.
Around 5,000 years ago in the north of Argentina, two species of wild groundnuts got together to produce a natural hybrid. The result of this pairing is the groundnut grown today across the globe, particularly in Africa and Asia. Now, scientists are discovering the treasures hidden in the genes of these ancient ancestors.
Nearly half of the world's groundnut growing area lies within the African continent, yet Africa's production of the legume has, until recently, accounted for only 25 percent of global yield. Drought, pests, diseases and contamination are all culprits in reducing yields and quality. But through the CGIAR Generation Challenge Programme (GCP), scientists have been developing improved varieties using genes from the plant's ancient ancestors. These new varieties are destined to make great strides towards alleviating poverty in some of the world's most resource-poor countries.
A grounding in the history of Africa's groundnuts
From simple bar snack in the west to staple food in developing countries, groundnuts – also commonly known as peanuts – have a place in the lives of many peoples across the world. First domesticated in the lush valleys of Paraguay, groundnuts have been successfully bred and cultivated for millennia. Today they form a billion-dollar industry in China, India and the USA, while also sustaining the livelihoods of millions of farming families across Africa and Asia.

"The groundnut is one of the most important income-generating crops for my country and other countries in East Africa," says Malawian groundnut breeder Patrick Okori, Principal Scientist at the International Crops Research Institute for the Semi-Arid Tropics (ICRISAT), who was also GCP's Product Delivery Coordinator for groundnuts.
"It's like a small bank for many smallholder farmers, one that can be easily converted into cash, fetching the highest prices," he says.
The situation is similar in West Africa, according to groundnut breeder Issa Faye from the Institut Sénégalais de Recherches Agricoles (ISRA; Senegalese Agricultural Research Institute), who has been involved in GCP since 2008. "It's very important for Senegal," he says. "It's the most important cash crop here – a big source of revenue for farmers around the country. Senegal is one of the largest exporters of peanut in West Africa."
Groundnuts have good potential for sustaining a strong African export industry in future, while providing a great source of nutrition for Africa's regional farming families.
"We believe that by using what we have learnt through GCP, we will be able to boost the production and exportation of groundnuts from Senegal to European countries, and even to Asian countries," says Issa. "So it's very, very important for us."
How Africa lost its groundnut export market
In Africa, groundnuts have mostly been grown by impoverished smallholder farmers, in infertile soils and dryland areas where rainfall is both low and erratic. Drought and disease cause about USD 500 million worth of losses to groundnut production in Africa every year.
"Because groundnut is self-pollinating, most of the time poor farmers can recycle the seed and keep growing it over and over," Patrick says. "But for such a crop you need to refresh the seed frequently, and after a certain period you should cull it. So the absence of, or limited access to, improved seed for farmers is one of the big challenges we have. Because of this, productivity is generally less than 50 percent of what would be expected."
Diseases such as the devastating groundnut rosette virus – which is only found in Africa and has been known to completely wipe out crops in some areas – as well as pests and preharvest seed contamination have all limited crop yields and quality and have subsequently shut out Africa's groundnuts from export markets.
The biggest blow for Africa came in the 1980s from a carcinogenic fungal toxin known as aflatoxin, explains Patrick.
Aflatoxin is produced by mould species of the genus Aspergillus, which can naturally occur in the soil in which groundnuts are grown. When the fungus infects the legume it produces a toxin which, if consumed in high enough quantities, can be fatal or cause cancer. Groundnut crops the world over are menaced by aflatoxin, but Africa lost its export market because of high contamination levels.
"That's why a substantial focus of the GCP research programme has been to develop varieties of groundnuts with resistance to the fungus," says Patrick.
After a decade of GCP support, a suite of new groundnut varieties representing a broad diversity of characteristics is expected to be rolled out in the next two or three years. This suite will provide a solid genetic base of resistance from which today's best commercial varieties can be improved, so the levels of aflatoxin contamination in the field can ultimately be reduced.
Ancestral genes could hold the key to drought tolerance and disease resistance
In April 2014, the genomes of the groundnut's two wild ancestral parents were successfully sequenced by the International Peanut Genome Initiative – a multinational group of crop geneticists, who had been working in collaboration for several years.
The sequencing work has given breeders access to 96 percent of all groundnut genes and provided the molecular map needed to breed drought-tolerant and disease-resistant higher-yielding varieties, faster.
"The wild relatives of a number of crops contain genetic stocks that hold the most promise to overcome drought and disease," says Vincent Vadez, ICRISAT Principal Scientist and groundnut research leader for GCP's Legumes Research Initiative. And for groundnut, these stocks have already had a major impact in generating the genetic tools that are key to making more rapid and efficient progress in crop breeding.
"Genetically, the groundnut has always been a really tough nut to crack," says GCP collaborator David Bertioli, from the University of Brasilia in Brazil. "It has a complex genetic structure, narrow genetic diversity and a reputation for being slow and difficult to breed. Until its genome was sequenced, the groundnut was bred relatively blindly compared to other crops, so it has remained among the less studied crops," he says.
With the successful genome sequencing, however, researchers can now understand groundnut breeding in ways they could only dream of before.
"Working with a wild species allows you to bring in new versions of genes that are valuable for the crop, like disease resistance, and also other unexpected things, like improved yield under drought," David says. "Even things like seed size can be altered this way, which you don't really expect."
The sequencing of the groundnut genome was funded by The Peanut Foundation, Mars Inc. and three Chinese academies (the Chinese Academy of Agricultural Sciences, the Henan Academy of Agricultural Sciences, and the Shandong Academy of Agricultural Sciences), but David credits GCP work for paving the way. "GCP research built up the populations and genetic maps that laid the groundwork for the material that then went on to be sequenced."
Chair of GCP's Consortium Committee, David Hoisington – formerly ICRISAT's Director of Research and now Senior Research Scientist and Program Director at the University of Georgia – says the sequencing could be a huge step forward for boosting agriculture in developing countries.
"Researchers and plant breeders now have much better tools available to breed more productive and more resilient groundnut varieties, with improved yields and better nutrition," he says.
These resilient varieties should be available to farmers across Africa within a few years.
Genetics alone will not lift productivity – farmers' local knowledge is vital
Improvements in the yield, quality and share of the global market of groundnuts produced by developing countries are already being seen as a result of GCP support, says Vincent Vadez. "But for this trend to continue, the crop's ability to tolerate drought and resist diseases must be improved without increasing the use of costly chemicals that most resource-poor farmers simply cannot afford," he says.
While genetic improvements are fundamental to developing the disease resistance and drought tolerance so desperately needed by African farmers, there are other important factors that can influence the overall outcome of a breeding programme, he explains. Understanding the plant itself, the soil and the climate of a region are all vital in creating the kinds of varieties farmers need and can grow in their fields.
"I have grown increasingly convinced that overlooking these aspects in our genetic improvements would be to our peril," Vincent warns. "There are big gains to be made from looking at very simple sorts of agronomic management changes, like sowing density – the number of seeds you plant per square metre. Groundnuts are often cultivated at seeding rates that are unlikely to achieve the best possible yields, especially when they're grown in infertile soils."
For Omari Mponda, now Director of Tanzania's Agricultural Research Institute at Naliendele (ARI–Naliendele), previously Zonal Research Coordinator and plant breeder, and country groundnut research leader for GCP's Tropical Legumes I project (TLI; see box below), combining good genetics with sound agronomic management is a matter of success or failure for any crop-breeding programme, especially in poverty-stricken countries.
"Molecular markers by themselves will not address the productivity on the ground," he says, agreeing with Vincent. "A new variety of groundnut may have very good resistance, but its pods may be too hard, making shelling very difficult. This does not help the poor people, because they can't open the shells with their bare hands."
And helping the poor of Africa is the real issue, Omari says. "We must remind ourselves of that."
This means listening to the farmers: "It means finding out what they think and experience, and using that local knowledge. Only then should the genetics come in. We need to focus on the connections between local knowledge and scientific knowledge. This is vital."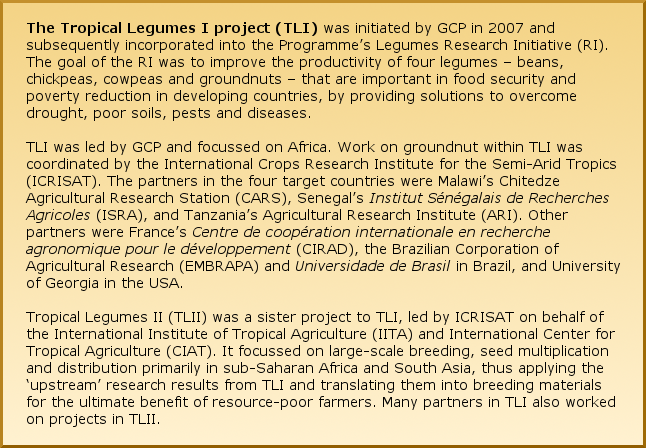 Local knowledge and high-end genetics working together in Tanzania
Like Malawi, Tanzania has also experienced the full spectrum of constraints to groundnut production – from drought, aflatoxin contamination, poor soil and limited access to new seed, to a lack of government extension officers visiting farmers to ensure they have the knowledge and skills needed to improve their farming practices and productivity.
Although more than one million hectares of Tanzania is groundnut cropping land, the resources supplied by the government have until now been minimal, says Omari, compared to those received for traditional cash crops such as cashews and coffee.
"But the groundnut is now viewed differently by the government in my country as a result of GCP's catalytic efforts," Omari says. "More resources are being put into groundnut research."
In the realm of infrastructure, for instance, the use of GCP funds to build a new irrigation system at Naliendele has since prompted Tanzania's government to invest further in irrigation for breeder seed production.
"They saw it was impossible for us to irrigate our crops with only one borehole, for instance, so they injected new funds into our irrigation system. We now have two boreholes and a whole new system, which has helped expand the seed production flow. Without GCP, this probably wouldn't have happened."
Irrigation, for Omari, ultimately means being able to get varieties to the farmers much faster: "maybe three times as fast," he says. "This means we'll be able to speed up the multiplication of seeds – in the past we were relying on rainfed seed, which took longer to bulk and get to farmers."
With such practical outcomes from GCP's research and funding efforts and the new genetic resources becoming available, breeders like Omari see a bright future for groundnut research in Tanzania.
The gains being made at Naliendele are not only sustainable, Omari explains, but have given the researchers independence and autonomy. "Before we were only learning – now we have become experts in what we do."
Prior to GCP, Omari and his colleagues were used to conventional breeding and lacked access to cutting-edge science.
"We used to depend on germplasm supplied to us by ICRISAT, but now we see the value in learning to use molecular markers in groundnut breeding to grow our own crosses, and we are rapidly advancing to a functional breeding programme in Tanzania."
Omari says he and his team now look forward to the next phase of their research, when they expect to make impact by practically applying their knowledge to groundnut production in Tanzania.
Similar breeding success in Senegal
Issa Faye became involved in GCP in 2008 when the programme partly funded his PhD in fresh seed dormancy in groundnuts. "I was an example of a young scientist who was trained and helped by GCP in groundnut research," he says.
"I remember when I was just starting my thesis, my supervisor would say, 'You are very lucky because you will not be limited to using conventional breeding. You are starting at a time when GCP funding is allowing us to use marker-assisted selection [MAS] in our breeding programme'."
The importance of MAS in groundnut breeding, Issa says, cannot be overstated.
"It is very difficult to distinguish varieties of cultivated groundnut because most of them are morphologically very similar. But if you use molecular markers you can easily distinguish them and know the diversity of the matter you are using, which makes your programme more efficient. It makes it easier to develop varieties, compared to the conventional breeding programme we were using before we started working with GCP."
By using markers that are known to be linked to useful genes for traits such as drought tolerance, disease resistance, or resistance to aflatoxin-producing fungi, breeders can test plant materials to see whether or not they are present. This helps them to select the best parent plants to use in their crosses, and accurately identify which of the progeny have inherited the gene or genes in question without having to grow them all to maturity, saving time and money.
Senegal, like other developing countries, does not have enough of its own resources for funding research activities, explains Issa. "We can say we are quite lucky here because we have a well-developed and well-equipped lab, which is a good platform for doing molecular MAS. But we need to keep improving it if we want to be on the top. We need more human resources and more equipment for boosting all the breeding programmes in Senegal and across other regions of West Africa."
Recently, Issa says, the Senegalese government has demonstrated awareness of the importance of supporting these activities. "We think that we will be receiving more funds from the government because they have seen that it's a kind of investment. If you want to develop agriculture, you need to support research. Funding from the government will be more important in the coming years," he says.
"Now that we have resources developed through GCP, we hope that some drought-tolerant varieties will come and will be very useful for farmers in Senegal and even for other countries in West Africa that are facing drought."
It's all about poverty
"The achievements of GCP in groundnut research are just the beginning," says Vincent. The legacy of the new breeding material GCP has provided, he says, is that it is destined to form the basis of new and ongoing research programmes, putting research well ahead of where it would otherwise have been.
"There wasn't time within the scope of GCP to develop finished varieties because that takes such a long time, but these products will come," he says.
For Vincent, diverse partnerships facilitated by GCP have been essential for this to happen. "The groundnut work led by ICRISAT and collaborators in the target countries – Malawi, Senegal, and Tanzania – has been continuously moving forward."
Issa agrees: "It was fantastic to be involved in this programme. We know each other now and this will ease our collaborations. We hope to keep working with all the community, and that will obviously have a positive impact on our work."
For Omari, a lack of such community and collaboration can only mean failure when it comes to addressing poverty.
"If we all worked in isolation, a lot of money would be spent developing new varieties but nothing would change on the ground," he says. "Our work in Tanzania is all about the problem of poverty, and as scientists we want to make sure the new varieties are highly productive for the farmers around our area. This means we need to work closely with members of the agricultural industry, as a team."
Omari says he and his colleagues see themselves as facilitators between the farmers of Tanzania and the 'upstream end' of science represented by ICRISAT and GCP. "We are responsible for bringing these two ends together and making the collaboration work," he says.
Only from there can we come up with improved technologies that will really succeed at helping to reduce poverty in Africa."
As climate change threatens to aggravate poverty more and more in the future, the highly nutritious, drought-tolerant groundnut may well be essential to sustain a rapidly expanding global population.
By developing new, robust varieties with improved adaptation to drought, GCP researchers are well on the way to increasing the productivity and profitability of the groundnut in some of the poorest regions of Africa, shifting the identity of the humble nut to potential crop champion for future generations.
More links