Barley is thought to have been one of the first crops ever cultivated by humankind. This is largely because it is a tough plant able to withstand dry and salty conditions. Its fortitude is especially important for the small land-holders living on the fringes of deserts in West Asia and North Africa, where it is "the last crop grown before the desert," says Dr Michael Baum, who led barley research for the CGIAR Generation Challenge Programme (GCP).
Michael, who is Director of the Biodiversity and Integrated Gene Management Programme at the International Center for Agricultural Research in the Dry Areas (ICARDA), says one of the GCP's first tasks was to find where the useful genes were in wild barley.
"Looking at wild barley is especially important for low-input agriculture, such as is found in developing countries," he says. "Wild barley grows in, and is very adapted to, the harsh conditions at the edge of the deserts in the Fertile Crescent of West Asia: Iraq, Syria, Jordan and Turkey."
In some regions, wild barley produces an even higher yield of grain when there is a drought. And this was the kind of useful trait that GCP researchers were looking for in their work on barley during the first phase of GCP, when the internationally funded Programme set out to enhance genetic stocks and plant-breeding skills that will help developing nations cope with increasingly extreme drought conditions.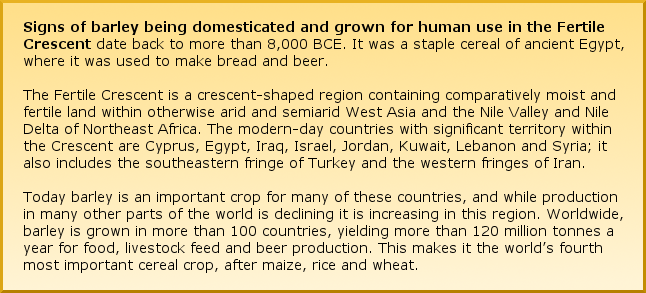 Barley a 'chosen one' for research
During its first five years, GCP chose barley as one of its focus crops as advances had already been made in understanding its genetic makeup and in using new molecular plant-breeding technologies to find and incorporate useful genes into barley varieties.
"At the same time, we needed to find the genes or characteristics we did not want in cultivated barley so we could avoid these traits," says Michael. "This includes the way wild barley disperses its seed when its brittle spikes shatter. Domesticated barley has non-shattering spikes, making it much easier to harvest."
Resource-poor farmers mostly grow barley in poor environments, where yields of key crops are chronically low, and crop failures are common. Resilient, high-yielding varieties could make a big difference to livelihoods.
Farmers in Central and West Asia and North Africa (CWANA) plant more than five million hectares of barley each year, where it is largely used as feed for the sheep and goats that are the main source of meat, milk and milk products for rural populations. In these environments, barley grain is harvested only two to three times over a five-year period. In years when it is too dry, sheep are sent into the barley field to graze on the straw.

Finding the clues to help breeders select barley's best DNA
The quest for better barley varieties – those that yield more, have more protein, can resist pests and diseases and can tolerate drought – means understanding what genes for what characteristics are available to plant breeders.
With 2,692 different barley accessions (or genetically different types of barley) in the ICARDA collection, from 84 different countries, this is no mean feat. GCP-supported researchers selected seed from 1,000 of the most promising accessions and planted single plants, whose seed was then 'fingerprinted', or genotyped, according to its DNA composition.
"From this, we selected 300 different barley lines that represented 90 percent of all the different characteristics of barley," says Michael.
"This [reference set] is really good for someone new to barley. By looking at 300 lines they are seeing the diversity of almost 3,000 lines without any duplication," he says. "This is much better and quicker for a plant breeder."
The reference set of 300 barley lines is now available to plant breeders through the ICARDA gene bank.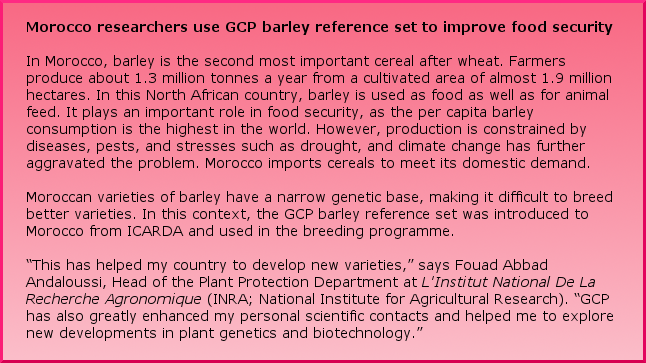 Checking out the effects of the environment on gene expression
It's not enough to discover what genes are present in different varieties of barley. It's also important to understand how these genes express themselves in terms of barley's yield, quality (especially protein content) and adaptation to stresses such as drought when grown in different environments.
To make this happen, GCP improved collaboration across research centres. This increased the probability of relatively quick advances in identifying new traits and opportunities to improve barley varieties for the poorer farmers of CWANA.
GCP funded a collaborative project between ICARDA and researchers in Australia (the University of Adelaide and the Australian Centre for Plant Functional Genomics), Italy (l'Università degli Studi di Udine) and Syria (Tishreen University) to apply a new method, analysing allele-specific expression (ASE), to understand how genes express themselves in barley, using experimental hybrid plants (cultivated plants crossed with wild barley plants). Over three years, the collaboration tested 30 genes and 10 gene-cross combinations and found that there were changes in genetic expression when plants were grown in drought conditions.
"This is a project we could not have done without the partners in the GCP collaboration," says Michael. "We gained important insights into how genes are regulated and how gene expression changes under different environmental conditions, such as drought, or during growth stages, such as early plant development or grain filling. We published our results in a high-impact journal [The Plant Journal (2009) 59(1):14–26], which was a great outcome for a project with such a limited timespan."
This project was designed not so much for the practical plant breeder, but for those using molecular-breeding technologies where it is important to understand that there is a change in the expression of genes over the lifetime of a plant. "This affects the selection of genes for breeding programmes," says Michael.

Making the most of wild barley
Once some of the fundamental research into barley's building blocks had been done, GCP revisited the potential of wild barley, with the aim to identify specific DNA that increased or decreased drought tolerance.
"Whenever you can't find the characteristics you are looking for in a cultivated crop, you go back to look again at the wild varieties," says Michael.
Once again, a collaborative effort – this time between ICARDA, the Scottish Crop Research Institute (since renamed to the James Hutton Institute), the University of California, Riverside, the University of Oregon and Chile's Instituto de Investigaciones Agropecuarias (INIA; Agricultural Research Institute) – was the key to success.
Joanne Russell from the James Hutton Institute says success came when "we combined the power of genomics with a unique population of 140 barley lines to identify segments of the donor genome that confer drought tolerance".
The barley lines were composed of an advanced elite genetic background combined with introduced segments of DNA from wild barley that came from the Fertile Crescent.
"We were successful in identifying parts of the DNA from hybrid plants that confer a significant increase in yield under drought," says Joanne.
Leader of this GCP project from the James Hutton Institute, Professor Robbie Waugh, adds that GCP provided a unique opportunity for their laboratory to interact with international colleagues on a project focussed on improving the plight of some of the world's poorest subsistence farmers.
"The genetic technologies we had developed prior to the GCP project starting were, at the time, state of the art – even in the more developed world," says Robbie. "Our ability to then apply these technologies to wild barley genetic material from ICARDA and to varieties derived from wild × cultivated crosses allowed us to learn a lot about patterns of genetic and phenotypic variation in the wider barley gene pool.
"Indeed, we are still working on one of the genetic populations of barley that we studied in the GCP program, now using sophisticated phenotyping tools and approaches to explore how genes in defined segments of the wild barley genome help provide yield stability under drought conditions through architectural variation in the root system."
GCP builds genetic resources through ongoing collaboration
For Michael, one of the most important outcomes of the GCP work was the ability to meet and work with researchers from other centres across the world.
"Before GCP, I had only visited two other CGIAR centres," he says. "GCP was the first attempt to develop a programme across the CGIAR centres and to work on a specific topic, which was genetic resources. I would give GCP high marks for stimulating this cross-centre cooperation, particularly through their annual GCP meeting."
And when the decision came to end barley research after the first phase of GCP, Michael found that he missed the GCP meetings: "I would have found it useful if I could have continued to attend the annual meetings," he says. "These were much more important to me than getting the project funding out of GCP."
Despite this and despite dealing with the challenge that some countries, such as China, were unable to provide the barley germplasm (samples of materials) that they initially promised, Michael has continued his relationships with some of the people he first met through GCP. "I'm still collaborating with China through a continuous bilateral effort on barley. Ten years later, the collaborations are still ongoing. Often when a project finishes, the collaboration finishes, but we are still continuing our collaboration on barley."
Most importantly, Michael believes the GCP-supported and -funded collaborations brought a new approach to providing plant genetic resources to breeders. "The reference sets we assembled for barley and other crops provided a new way to look at large germplasm collections," he says.
"This was one aim of GCP: about how to have a more rational look at germplasm collections. Now plant breeders don't have to ask for five to ten thousand accessions of a crop, and then spend several years on evaluation.
"Now they have a higher chance of finding the genetic characteristics they want more quickly from the much smaller reference collection."
And although the reference-set approach has been further refined since GCP's first phase of research concluded, Michael believes it builds on what GCP started through its collaborative teams, with barley being just one example.
"GCP helped make it all happen," he says.
For research and breeding products, see the GCP Product Catalogue and search for barley.