Pearl millet is the only cereal crop that can be grown in some of the hottest and driest regions of Asia and Africa. It is a staple provider of food, nutrition and income for millions of resource-poor people living on these harsh agricultural lands.
Even though pearl millet is well adapted to growing in areas characterised by drought, poor soil fertility and high temperatures, "there are limited genetic tools available for this orphan crop," reported researcher Tom Hash at the International Crop Science Congress 10 years ago.
"The people who relied on this crop in such extreme environments had not benefitted from the 'biotechnology revolution', or even the 'green revolution' that dramatically increased food grain production on irrigated lands over a generation ago," adds Tom, now Principal Scientist (Millet Breeding) in the Dryland Cereals Research Program of the International Crops Research Institute for the Semi-Arid Tropics (ICRISAT). This lack of research dividends was despite the fact that pearl millet is the sixth most important cereal crop globally.
It was at this time – in 2005 – that the CGIAR Generation Challenge Programme (GCP) stepped up to invest in more genetic research for pearl millet (along with finger and foxtail millet).
The use of genetic technologies to improve pearl millet had already made some advances through work carried out in the United Kingdom. The GCP initiative was established to improve food security in developing countries by expanding such available genetic work to create crops bred to tolerate drought, disease and poor soils.
With financial support from GCP, and with the benefit of lessons learnt from parallel GCP genetic research, ICRISAT scientists were able to develop more advanced tools for breeding pearl millet.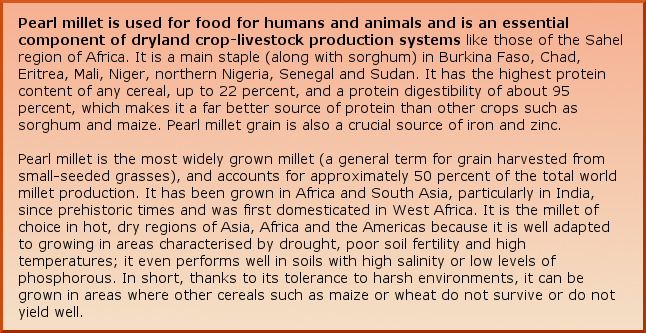 Protein in pearl millet 'critical' for nutrition
Mark Laing, Director of the African Centre for Crop Improvement (ACCI) at the University of KwaZulu-Natal in South Africa, says the GCP-supported work on pearl millet will have long-term impacts.
He says it is the high protein content of pearl millet that makes it such a crucial crop for developing countries – in Africa, this is the reason people use pearl millet for weaning babies.
"It was interesting to us that African people have used pearl millet as a weaning food for millennia. The reason why was not clear to us until we assessed the protein content," says Mark. "Its seed has 13–22 percent protein, remarkable for a cereal crop, whereas maize has only eight percent protein, and sorghum has only two percent digestible protein."
Tom Hash agrees, adding: "More importantly, pearl millet grain has much higher levels of the critically important mineral micronutrients iron and zinc, which are important for neurological and immune system development.
"These mineral micronutrients, although not present in a highly available form, can improve blood iron levels when used in traditional pearl millet-based foods. Pearl millet grain, when fed to poultry, can provide a potentially important source of omega-3 fatty acids, which are also essential for normal neurological development."
Pearl millet endowed with genetic potential
In a treasure-trove of plant genetic resources, thousands of samples, or accessions, of pearl millet and its wild relatives are kept at ICRISAT's gene banks in India and Niger.
For pearl millet alone, in 2004 ICRISAT had 21,594 types of germplasm in its vaults at its headquarters in India. This represents a huge reservoir of genetic diversity that can be mined for data and for genetic traits that can be used to improve pearl millet and other crops.
Between 2005 and 2007, with support from GCP, scientists from ICRISAT set to work to do just that, mining these resources for qualities based on observed traits, geographical origin and taxonomy.
Hari D Upadhyaya, Principal Scientist and Director of Genebank at ICRISAT, led the task of developing and genotyping a 'composite collection' of pearl millet. To do this, the team created a selection that reduced 21,594 accessions down to 1,021. This collection includes lines that are tolerant to drought, heat and soil salinity; others resistant to blast, downy mildew, ergot, rust and smut; and accessions resistant to multiple diseases.
The collection also includes types of pearl millet with high seed iron and zinc content (from traditional farmer varieties, or landraces, from Benin, Burkina Faso, Ghana and Togo), high seed protein content, high stalk sugar content, and other known elite breeding varieties.
The final collection comprised 710 landraces, 251 advanced breeding lines, and 60 accessions from seven wild species.
The GCP-supported scientists then used molecular markers to fingerprint the DNA of plants grown from the collection. Molecular markers are known variations in the sequence of the genetic code, found in different versions within a species, which act as flags in the genome sequence. Some individual markers may be associated with particular useful genes, but markers are useful even without known associations, as the different flags can be compared between samples. In the pearl millet research, scientists searched for similarities and differences among these DNA markers to assess how closely or distantly related the 1,021 accessions were to each other.
This was not only a big step forward for the body of scientific knowledge on pearl millet, but also for the knowledge and skills of the scientists involved. "The GCP work did make some significant contributions to pearl millet research," says Tom, "mainly by helping a critical mass of scientists working on pearl millet to learn how to appropriately use the genetic tools that have been developed in better-studied fungi, plants and animals (including people)."
GCP extends know-how to Africa
The semiarid areas of northern and eastern Uganda are home to a rich history and culture, but they are difficult environments for successful food production and security.
In this region, pearl millet is grown for both commercial and local consumption. Its yields, although below the global average, are reasonable given that it is grown on poor sandy soils where other crops fail. Yet despite being a survivor in these harsh drylands, pearl millet can still be affected by severe drought and disease.
GCP helped kick-start work to tackle these problems. With financial support from GCP, and through ACCI, Geofrey Lubade, a scientist from Uganda, was able to study and explore breeding pearl millet that would be suitable for northern Uganda and have higher yields, drought tolerance and rust resistance.
Geofrey now plans to develop the best of his pearl millet lines for registration and release in Uganda, which he expects will go a long way in helping the resource-poor.
But Geofrey's success is just one example of the benefits from GCP-support. Thanks to GCP, Mark Laing says that his students at ACCI have learnt invaluable skills that save significant time and money in the plant-breeding process.
"Many of our students, with GCP support, have been involved in diversity studies to select for desirable traits," says Mark – and these students are now working on releasing new crop varieties.
He says that African scientists directly benefitted from the GCP grants for training in biotechnology and genetic studies.
Their work, along with that of a number of other scientists, will have a huge impact on plant breeding in developing countries – long term.
As Mark explains, once breeders have built up a head of steam there is no stopping them. "Plant breeders take time to start releasing varieties, but once they get started, then they can keep generating new varieties every year for many years," he says. "And a good variety can have a very long life, even more than 50 years.
"We have already had a significant impact on plant breeding in some African countries," says Mark. But perhaps more importantly, he says, the work has changed the status of plant breeding and pearl millets as a subject: "It used to be disregarded, but now it is taken seriously as a way to have an impact on agriculture."
For research and breeding products, see the GCP Product Catalogue and search for pearl millet.