Little did some of Ghana's crop researchers know back in 2007 that they would be cultivating not just their plants but also themselves over the following seven years.
"When you see one person being trained and then another person being trained, it doesn't mean much. But when you put all the numbers together and they see themselves as a force, as a team, I think that's where new strength lies for our African researchers," reflects Elizabeth Parkes on the impacts of the CGIAR Generation Challenge Programme (GCP).
Elizabeth is a cassava breeder in Ghana. She works for the Crops Research Institute (CRI) of Ghana's Council for Scientific and Industrial Research (CSIR) and is currently on a leave of absence working at the International Institute of Tropical Agriculture (IITA).
"Wherever I go, whatever opportunity I have, I refer back to GCP and its capacity-building work. You see, it's good to release new plant varieties, but it's also good to release people," she says.
The internationally funded GCP set out to enhance the local plant-breeding capabilities of people like Elizabeth, and so help developing nations meet ever-growing demands for food in the face of climate change and worsening drought conditions, the threat of crop disease, and other pressures.
This has meant empowering scientists with cutting-edge tools and knowledge, as well as overcoming some surprisingly down-to-earth obstacles.
"One thing that really energises me," enthuses GCP Consultant Hannibal Muhtar, "is seeing people understand why they need to do the work and being given the chance to do the how."
Hannibal, under his GCP remit, was asked to visit the research sites of GCP-funded projects at research centres and stations across Africa, to identify those where effective research might be hindered by significant gaps in three fundamental areas: infrastructure, equipment and support services. He selected 19 target research sites, in Burkina Faso, Ethiopia, Ghana, Kenya, Mali, Niger, Nigeria and Tanzania. Two of these were in Ghana, namely the CRI research sites at Kumasi and Tamale.
The mission of CRI is to ensure high and sustainable crop productivity and food security in Ghana through the development and dissemination of environmentally sound technologies. Its research areas are broad and include maize, rice, cowpeas, soybeans, groundnuts, cassava, yams, cocoyams, sweetpotatoes, plantains and bananas.
In developing countries like Ghana that the obstacles to achieving research objectives are often quite mundane in nature: a faulty weather station, a lack of irrigation systems, or fields ravaged by weeds or drainage problems and in dire need of rehabilitation. Yet such factors compromise brilliant research.
Even a simple lack of fencing commonly results not only in equipment being stolen, but also in precious experimental crops being stomped on by roaming cattle and wild animals such as boars, monkeys, hippopotamuses and hyenas; this also poses a serious threat to the safety of field staff.
"The real challenge lies not in the science, but rather in the real nuts and bolts of getting the work done in local field conditions," Hannibal explains.
He says: "If GCP had not invested in research support infrastructure and services, then their investment in research would have been in vain. Tools and services must be in place as and when needed, and in good working order. Tractors must be able to plough when they should plough."
Ghana gains a new centre of excellence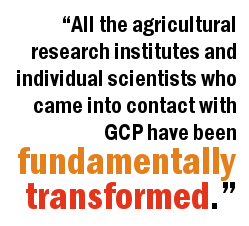 Elizabeth is one of more than 10 researchers from Ghana who gained their PhDs via GCP-funded research projects. They were given the opportunity to travel to international research laboratories to learn the latest research methods, train in genotyping and establish contacts with leading scientific minds.
"They [GCP] have made us attractive for others to collaborate with," says Elizabeth.
"GCP gave you the keys to solving your own problems; it put structures in place so that knowledge learnt abroad could be transferred and applied at home.
"Before GCP we really struggled, but now everybody wants to have training in Ghana. Everybody wants to have something to do with us, and I will always say thank you to GCP for that, for making us attractive as researchers," Elizabeth says.
At the outset of the Programme, Elizabeth was learning how to breed new cassava varieties suitable for African soils. She worked with scientists from IITA in Nigeria to use genetic resources (germplasm) from South America, where cassava originates, to integrate the CMD2 gene into local germplasm using molecular breeding. CMD2 gives cassava resistance to the devastating cassava mosaic disease, which slowly shrivels and yellows leaves and roots, destroying crop yields.
Cassava is a lifeline for African people, and is a particularly important staple food for poorer farmers. More cassava is produced in Africa than any other crop, according to 2012 figures from the Food and Agriculture Organization of the United Nations. It is grown by nearly every farming family in sub-Saharan Africa, supplying about a third of people's daily energy intake in the region. This makes cassava mosaic disease a potential disaster, and makes effectively breeding improved varieties an activity with real impact.
"We started out doing low-cost marker-assisted selection, for which we had some grants. Someway, somehow, the government got interested and brought in more resources. So together we started a small biotech lab. Now this lab has become the Centre of Excellence for West African productivity," says Elizabeth.
"I have attended three GCP Annual Research Meetings, and I have won awards for my posters. This greatly boosted my confidence," says Elizabeth. She also continues to be an active member of the Cassava Community of Practice – founded by GCP and now hosted by the Integrated Breeding Platform (IBP) – which facilitates and supports the integration of marker-assisted selection into cassava breeding. All this has accelerated Elizabeth's quest to produce and disseminate farmer-preferred cassava varieties that are resistant to pests and diseases.
"We are all forever grateful to GCP and its funders. GCP has had a huge impact on research in Ghana, especially for cassava, rice, maize and yam. All the agricultural research institutes and individual scientists who came into contact with GCP have been fundamentally transformed."
Capacity building à la carte a real 'life changer'
For Allen Oppong, a maize pathologist at CRI, GCP was a life changer too: "Indeed, I am very grateful to GCP for making me what I am today."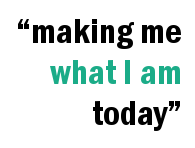 Allen's first experience of GCP was in 2007, when he won a Capacity building à la carte grant for research into characterising locally adapted maize varieties. During the project he travelled to international research meetings and received training in marker-assisted selection in advanced laboratories.
Infrastructure improvements funded by GCP also came at a critical time for Allen. There was a drought, which, without the irrigation systems provided through the Programme, would have meant a much longer research process.
Even without drought, these kinds of improvements can dramatically speed up breeding, as Hannibal explains: "By providing glasshouses or the capacity to irrigate in the dry season, we are enabling breeders to accelerate their breeding cycles, so that they can work all year round rather than having to wait until the rain comes."
"Through the support of GCP," Allen recalls, "I was able to characterise maize varieties found in Ghana using the bulk fingerprinting technique. This work has been published and I think it's useful information for maize breeding in Ghana – and possibly other parts of the world."
One of the biggest challenges that Allen experienced during his GCP work was getting farmers to try the new varieties that are being developed.
"Most people don't like change. The new varieties are higher yielding, disease resistant, nutritious – all good qualities. But the challenge is demonstrating to farmers that these materials are better than what they have.
"You can have very good material that has all these attributes, but if the farmer doesn't have access to it, then how can he know the attributes that you are talking about? How can he see it when it is in your research station?"
Ghanaian farmers generally select maize varieties for their adaptation to specific local environments. But as Allen explains, average maize yields in Ghana, at 1–1.5 tonnes per hectare, are well below the global average of 5.2 tonnes per hectare.
Allen is looking forward optimistically to this next stage. "We have the capacity to more than double what we are producing now. The possibility is there, as long as farmers adopt the good materials."
A 'kick-start' for plant science and for people
The catalytic effect of international funding programmes like GCP on small research laboratories in developing countries is often underestimated.
"We got GCP support to kick-start molecular biology research activities," says Marian Quain, a senior research scientist at CRI. "It provided us with laboratory chemicals, reagent and equipment. My lab also received funding under the Genotyping Support Service initiative to characterise hundreds of sweetpotato, yam and cassava accessions.
"This support from GCP contributed immensely to transforming the lab."
Funding injections can kick-start careers for young scientists too. In 2009, Ruth Prempeh received funding for her PhD, Genetic analysis of postharvest physiological deterioration in cassava (Manihot esculenta Crantz) storage roots, which was completed in 2013.
"From my thesis, l have prepared three manuscripts for publication. I have also had the opportunity to attend the three-year Integrated Breeding Multiyear Course, during which l acquired knowledge and skills in data analysis, interpretation and management and also in using modern technologies for crop improvement," says Ruth.
"This has been very useful and has really had an impact on my career, making me what l am today. With this, l know l have a great future and I believe l will achieve great things. I am really proud to have been associated with GCP and very grateful for the opportunity."
More links