Common beans are the world's most important food legume, particularly for subsistence and smallholder farmers in East and Southern Africa. They are a crucial source of protein, are easy to grow, are very adaptable to different cropping systems, and mature quickly.
To some, beans are 'a near-perfect food' because of their high protein and fibre content plus their complex carbohydrates and other nutrients. One cup of beans provides at least half the recommended daily allowance of folate, or folic acid – a B vitamin that is especially important for pregnant women to prevent birth defects. One cup also supplies 25–30 percent of the daily requirement of iron, 25 percent of that of magnesium and copper, and 15 percent of the potassium and zinc requirement.
Unfortunately, yields in Africa are well below their potential – between 20 and 30 percent below. The main culprit is drought, which affects 70 percent of Africa's major bean-producing regions. Drought is especially severe in the mid-altitudes of Ethiopia, Kenya, Malawi and Zimbabwe, as well as across Southern Africa.
"For the past seven or eight years, rains have been very unreliable in central and northern Malawi," says Virginia Chisale, a bean breeder with Malawi's Department of Agricultural Research and Technical Services.
"In the past, rains used to be very reliable and people were able to know the right time to plant to meet the rains in critical conditions," she says. "Now these primary agriculture regions are either not receiving rain for long periods of time, or rains are not falling at the right time."
Virginia recounts that during the 2011/12 cropping season there were no rains soon after planting, when it is important that beans receive moisture. Such instances can cut bean yields by half.
"Drought is a recurrent problem of rainfed agriculture throughout the world," says Steve Beebe, a leading bean breeder with the International Center for Tropical Agriculture (CIAT). "Since over 80 percent of the world's cultivated lands are rainfed, drought stress has major implications for global economy and trade."
Steve was the Product Delivery Coordinator for the beans component of the Legumes Research Initiative (RI), part of Phase II of the CGIAR Generation Challenge Programme (GCP). The RI incorporated several projects, the biggest of which was Tropical Legumes I (TLI) (see box). The main objective of the work on beans within TLI was to identify and develop drought-tolerant varieties using marker-assisted breeding techniques. The resulting new varieties were then evaluated for their performance in Ethiopia, Kenya, Malawi and Zimbabwe.
"It's vital that we develop high-yielding drought-tolerant varieties so as to help farmers, particularly in developing countries, adapt to drought and produce sustained yields for their families and local economies," says Steve.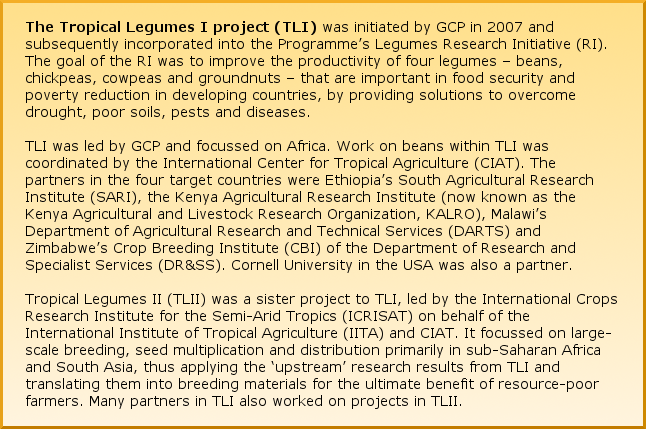 For an overview of the work on beans from the perspectives of four different partners, watch our video below, "The ABCs of bean breeding".
What makes a plant drought tolerant?
The question of what makes a plant drought tolerant is one that breeders have debated for centuries. No single plant characteristic or trait can be fully responsible for protecting the plant from the stress of intense heat and reduced access to water.
"It's a difficult question to answer for any plant, including beans," says Steve. "Once you do isolate a trait genetically, it can often be difficult to identify this trait in a plant in the field, for example, identifying the architecture and length of a plant's roots."
Phenotyping is an important process in conventional plant breeding. It involves identifying and measuring the presence of physical traits such as seed colour, pod size, stem thickness or root length. Gathering data about a range of such characteristics across a number of different plant lines helps breeders decide which plants to use as parents in crosses and which of the progeny have inherited useful traits.
Root length has long been thought of as a drought-tolerance trait: the longer the root, the more chance it has of tapping into moisture stored deeper in the soil profile.
Given, however, that it is difficult to inspect root length in the field, researchers at CIAT have been exploring other more accessible drought-tolerance traits they can more easily identify and measure. One of these is measuring the weight of the plants' seeds.
Fat beans indicate plants coping with drought stress
"We measure seed weight because we are discovering that under drought stress, drought-tolerant bean varieties will divert sugars from their leaves, stems and pods to their seed," says Steve. "We call this trait 'pod filling', and for us it is the most important drought-tolerance trait to be found over the last several years."
Finding bean plants with larger, heavier seeds when growing under drought conditions indicates that the plants are coping well, and means farmers' yields are maintained.
As part of GCP's Legumes RI, African partners like Virginia have been measuring the seed weight of several advanced breeding lines, which can be used as parents to develop new varieties. These breeding lines have been bred by CIAT and demonstrate this pod-filling process and consequent tolerance of drought.
Although this measurement is relatively cheap and easy for breeders all over the world to do, Steve and his team are interested in finding an even more efficient way to spot plants that maintain full pods under drought.
"We are trying to understand which genes control this trait so we can use molecular-assisted breeding techniques to determine when the trait is present," says Steve. Having identified several regions of genes related to pod filling, he and his team have developed molecular markers to help breeders identify which plants have these desired genes. "The use of molecular markers in selection significantly reduces the time and cost of the breeding process, making it more efficient. This means that we get improved varieties out to farmers more quickly."
Molecular markers (also known as DNA markers) are used by researchers as 'flags' to identify particular genes within a plant's genome (DNA) that control desired traits, such as drought tolerance. These markers are themselves fragments of DNA that highlight particular genes or regions of genes by binding near them.
To use an analogy, think of a story as the plant's genome: its words are the plant's genes, and a molecular marker works like a text highlighter. Molecular markers are not precise enough to highlight specific words (genes), but they can highlight sentences (genomic regions) that contain these words (genes), making it easier and quicker to identify whether or not they are present.
Plant breeders can use molecular markers from early on in the breeding process to choose parents for their crosses and determine whether progeny they have produced have the desired trait, based on testing only a small amount of seed or seedling tissue.
"If the genes are present, we grow the progeny and conduct the appropriate phenotyping; if not, we throw the progeny away," explains Steve. "This saves us resources and time because we need to grow and phenotype only the few hundred progeny which we know have the desired genes, instead of a few thousand progeny, most of which would not possess the gene."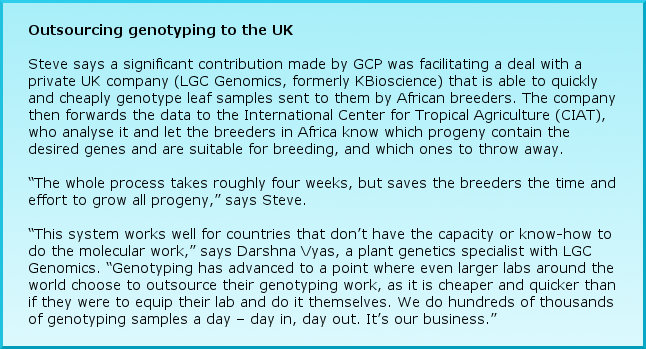 GCP has supported this foundation work, building on the extensive bean research already done by CIAT dating back to the 1970s, to develop molecular markers not only for drought-tolerance traits such as pod filling, but also for traits associated with resistance to important insect and disease menaces.
"Under drought conditions, plants become more susceptible to pests and diseases, so it was important that we also try to identify and include resistance traits in the drought-tolerant progeny," says Steve.
Drought is but one plant stressor – diseases and pests wreak havoc too
The bean diseases that farmers in Ethiopia, Kenya, Malawi and Zimbabwe continually confront are angular leaf spot, bean common mosaic virus, common bacterial blight and rust. Key insect pests are bean stem maggot and aphids.
"We've had reports of bean stem maggot and bean common mosaic virus wiping out a whole field of beans," says Virginia. "Although angular leaf spot and common bacterial blight are not as damaging, they can still reduce yields by over 50 percent."
Virginia says this is devastating for farmers in Malawi, many of whom only have enough land and money to grow beans to feed their families and sell what little excess there is at market to purchase other necessities.
"This is why we are excited by the prospect of developing not just drought-tolerant varieties, but drought-tolerant varieties with disease and pest resistance as well," says Virginia.
Virginia's team in Malawi – along with other breeders in Ethiopia, Kenya and Zimbabwe – are currently using over 200 Mesoamerican and Andean bean breeding lines supplied by CIAT to help breed for drought tolerance and disease and pest resistance. Although many do not yet have the capacity to do molecular breeding in their countries, thanks to advances in plant science it is becoming more feasible and cheaper to outsource molecular breeding stages of the process (see box above).
"With help from GCP and CIAT, we have successfully crossed a line from CIAT with some local varieties to produce plants that are high yielding and resistant to most common bean diseases," Virginia says.
Ethiopia's new bean breeders
One man who has been helping build this new breeding capacity is Bodo Raatz, a molecular geneticist who joined CIAT and GCP's Legumes RI in late 2011.
"We've [CIAT] hosted several African PhD students here in Colombia and have conducted several workshops in Colombia and Africa too," says Bodo.
"At the workshops we teach local breeders and technicians how to use genetic tools and markers for advanced breeding methods, phenotyping and data management. The more people there are who can do this work, the quicker new varieties will filter through to farmers."
Bodo says he has found delivering the training both personally and professionally rewarding, especially "seeing the participants understand the concepts and start using the tools and techniques to develop new lines [of bean varieties] and contribute to the project."
One national breeder whom Bodo has seen advance from the training is Daniel Ambachew, then a bean breeder at the Southern Agricultural Research Institute (SARI) in Ethiopia.
Daniel started as a GCP-funded Master's student enrolled at Haramaya University, Ethiopia, evaluating bean varieties with both tolerance to drought and resistance to bean stem maggot. He eventually became the Ethiopian project leader for beans within GCP's Legumes RI.
"Daniel is currently one of only a handful of bean breeders in Ethiopia who are using molecular-assisted breeding techniques to breed new varieties," says Bodo. "It's quite an achievement, especially now that he has taken on the lead role in Ethiopia."
For Daniel, learning about and using the new molecular-breeding techniques has been an exciting new challenge. "The most interesting part of the technology is that it helps us understand what is going on in the plant at a molecular level and lets us know if the crosses we are making are successful and the genes we want are present," says Daniel. "All this helps improve our efficiency and speeds up the time it takes us to breed and release new varieties for farmers."
By the end of 2014, Daniel and his team had finished the third year of trials and had several drought-tolerant lines ready for national trials in 2015 and eventual release in 2016.
Between 2012 and 2014, Daniel, and two other breeders from SARI, attended GCP's three-year Integrated Breeding Multiyear Course, learning how to design molecular-assisted breeding trials; collect, analyse and interpret genotypic and phenotypic data from the trials; and manage data using the GCP's Integrated Breeding Platform (IBP), particularly its Breeding Management System (BMS).
"The IBP is a really fantastic tool," says Daniel. "During the course we learnt about the importance of recording clear and consistent phenotypic data, and the IBP helps us to do this as well as store it in a database. It makes it easier to refer to and learn from the past. I'm now trying to pass on the knowledge I've learnt as well as create and implement a data-management policy for all plant breeders and technicians in our institute."
Bodo agrees with Daniel about the importance of IBP and believes it will be a true legacy of GCP beyond the Programme's end in 2014. "The Platform has been designed to be the main data-management platform for plant breeders. It allows breeders to talk the same language and will reduce the need for learning new systems."
Daniel says the challenge for his institute now is to build further capacity among staff – and to retain it. "At the moment we only have two bean breeders," says Daniel. "It's hard to retain research staff in Ethiopia as salaries are very low, so people move on to new, higher paying positions when they get the chance. It's not unique to Ethiopia, but true of all Africa."
Kenya chasing higher bean yields
Across the border, Kenya has also been facing staffing issues.
"We are behind Ethiopia, Malawi and Zimbabwe in terms of our capacity and our trials," says David Karanja, a bean breeder and project leader at the Kenya Agricultural and Livestock Research Organisation (KALRO, formerly the Kenya Agricultural Research Institute, or KARI). "At the start of the project, we didn't have a breeder to lead the project for almost two years. However, we are now rapidly catching up with the others."
And it's a good thing too, as the country is in need of higher yielding beans to accommodate its population's insatiable appetite for the crop. Out of the four target African countries, Kenya is the largest bean producer and consumer. As such, the country relies on beans imports from Ethiopia, Malawi, Tanzania and Uganda.
"A lot of families eat beans every day," says David. "On average, the population eats 14–16 kilograms per person each year, but in western Kenya the average is over 60 kilograms."
Kenyans consume an average total of 400,000 tonnes of beans each year, consistently more than the country produces. Projected trends in population growth indicate that this demand for beans will continue to increase by three to four percent annually.
Even though the area planted to beans has been increasing, David says farmers and breeders need to work together to improve productivity, which is well below where it should be. "The national average yield is 100 kilograms per hectare, which can range from 50 kilograms up to 700 kilograms, depending on whether we experience a drought, or a pest or disease epidemic," explains David. "The minimum target we should be aiming for is 1,200 kilograms per hectare."
Such a figure may seem impossible, but David believes that new breeding techniques and the varieties KALRO are producing with the help of CIAT are providing hope that farmers can reach these lofty goals.
"We have several bean lines that are showing good potential to produce higher yields under drought conditions and also have resistance to diseases like rust and mosaic virus," says David. "They are currently under national trials, and we are confident these will be released to farmers in 2015."
Commercialising beans
"Many subsistence farmers have limited access to good quality bean seeds; they lack knowledge of good crop, pest and disease management; and they have poor post-harvest storage facilities," says Godwill Makunde, who was previously a breeder at Zimbabwe's Crop Breeding Institute (CBI) and leader of GCP's Legumes RI bean project in Zimbabwe.
TLI's sister project, Tropical Legumes II (TLII, see box above), led by the International Crops Research Institute for the Semi-Arid Tropics (ICRISAT), provided the route by which the upstream work of TLI would have impact in helping these farmers, seeking to deliver the new varieties developed under TLI into their hands. As part of TLII, Godwill, his successor Bruce Mutari, and other African partners worked on developing sustainable seed systems.
"Because beans are self-pollinating, which means each crop is capable of producing seed exactly as it was sown, farmers tend to propagate seed on farm," says Godwill. "While this can be cost effective, it can reduce farmers' access to higher yielding, tolerant lines, like the ones we are currently producing."
In none of the partner countries of TLI and TLII are there formal systems for producing and disseminating bean seeds. Godwill and other partners are working with seed companies on developing a sustainable model where both farmers and seed companies can benefit.
Success built on a solid foundation
A key to the success of the beans component of GCP's Legumes RI, according to Ndeye Ndack Diop, GCP's Capacity Building Theme Leader and TLI Project Manager, has been partners' existing relationships with each other.
"Many of the partners are part of a very strong network of bean breeders: the Bean Coordinated Agricultural Project [BeanCAP]," explains Ndeye Ndack, adding that the TLI and BeanCAP networks benefited each other.
BeanCAP released more than 1,500 molecular markers to TLI researchers, which have helped broaden the genetic tools available to developing-country bean breeders.
TLI was also able to leverage and advance previous BeanCAP work and networks. For example, it was through this collaboration that GCP was introduced to LGC Genomics, a company it then worked with on many other crop projects.
To sustain integrated breeding practices beyond the Programme's close in 2014, GCP established Communities of Practice (CoPs) that are discipline- and commodity-oriented.
"GCP's CoP for beans has also helped to broaden both the TLI and BeanCAP networks too," says Ndeye Ndack. "The ultimate goal of the CoPs is to provide a platform for community problem solving, idea generation and information sharing."
Developing physical capacity
Besides developing human capacity, GCP has also invested in developing infrastructure in Ethiopia, Kenya and Zimbabwe.
SARI now has an irrigation system to enable them to conduct drought trials year round. "We have 12.5 hectares of irrigation now, which we use to increase our efficiency and secure our research," says Daniel. "We can also increase seed with this irrigation during the off-season and develop early generation seeds for seed producers."
In Zimbabwe, CBI received specialised equipment that enables them to extract DNA and send it for genotyping in the UK.
Both SARI and CBI also received automatic weather stations from GCP for high-precision climatic data capture, with automated data loading and sharing with other partners in the network.
Delivering the right beans to farmers
Back in Malawi, Virginia says another important facet of the TLII project is that researchers understand what qualities farmers want in their beans. "It's no use developing higher yielding beans if the farmer doesn't like the colour, or they don't taste nice," she says. "For example, consumers in central Malawi prefer khaki or 'sugar beans', which are tan with brown, black or red speckles. While those in southern Malawi tend to prefer red beans. Farmers know this and will grow beans that they know consumers will want."
Breeders in all four countries have been conducting workshops and small trials with farmers to find out this information. In Kenya, David finds farmer participation a great way to promote the work they are doing and show the impact the new drought-tolerant and disease-resistant lines can have.
"Farmers are excited and want to grow these varieties immediately when they see for themselves the difference in yield these new varieties can produce compared to their regular varieties," says David. "They understand the pressure on them to produce more yields and are grateful that these varieties are becoming more readily available as well as tailored to their needs."
For Steve, such anecdotes provide him and his collaborators with incentives to continue their quest to discover more molecular markers associated with drought tolerance, post-GCP.
"It's a testament to everyone involved that we have been able to develop these advanced lines with pod-filling traits using molecular techniques, and make them available to farmers in six years instead of ten," says Steve.
More links