Hei Leung has always been passionate about diversity, especially genetic diversity, and that's one reason why he leapt at the chance to get involved with the CGIAR Generation Challenge Programme (GCP) right from its inception more than a decade ago.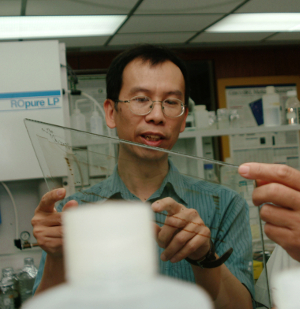 But GCP's attraction for Hei wasn't just about genetic diversity; it was also about working with diverse institutes and researchers. At the time, Hei had been working for the International Rice Research Institute (IRRI) for some 10 years, on and off, including a stint at Washington State University in the USA.
"The whole idea of the Challenge Programme was to bring people together from different places instead of an individual CGIAR Centre doing things," he says.
Hei also saw the likely spin-offs from rice research to other crops such as wheat, maize and sorghum, which are also crucial to food security.
"Rice is a 'model crop' because of its small genome. This means researchers in major cereals like wheat and maize, which have much bigger genomes but share genes of similar functions, can benefit from our work with rice."
It all began in 2003, over pizza, in Rome. Hei remembers that his commitment to GCP started when he met with a small group of people including Robert Zeigler, who was to become the first Director of GCP, and who is currently Director General of IRRI.
"Little did we know that pizza was so inspiring," Hei says, recalling that it was during that meeting that they agreed on the name: the Generation Challenge Programme.
GCP was formally launched in 2004 in Brisbane, Australia, at the 4th International Crop Science Congress.
Making the Programme 'pro-poor'
Hei was initially involved with GCP as Subprogramme Leader for Comparative Genomics for Gene Discovery between 2004 and 2007, and later as a Principal Investigator for the Rice Research Initiative. Taking on his leadership role, Hei recognised from the start that many crops important to developing communities in Asia and Africa needed to become more drought-tolerant because of the increasing effects of climate change.
"We wanted to have a programme that is what we call 'pro-poor'," he says. "The majority of the world's people depend on crops such as rice, wheat and maize for food."
"I always feel that if you can solve eastern India's problems, you can solve most of the problems in the world," Hei adds. "If you travel in eastern India, you can see climate change happening day in, day out. You don't have to wait 10 years or 50 years; it's happening already. They either have too much or too little water. It's a high-stress environment."
Rice is the world's most widely consumed cereal crop, and is particularly important as the staple food of 2.4 billion people in Asia. GCP recognised rice's importance and invested almost USD 29.5 million in rice research and development.
Furthermore, the genetic breeding lessons learnt from rice can also be applied to other staple crops such as wheat, maize and sorghum.
Other GCP-supported researchers used comparative genetics to determine if the same or similar genes – for example, the phosphorus starvation tolerance (PSTOL1) protein kinase gene found in rice – was also present and operating in the same manner in sorghum and maize.
They found sorghum and maize varieties that contained genes, similar to rice's PSTOL1, that also conferred tolerance to phosphorus-deficient soils by enhancing the plant's root system. They were then able to develop molecular markers to help breeders in Brazil and Africa to identify lines with these genes, which can now be used in breeding and developed as varieties for farmers growing crops, particularly in acidic soils.
Seeing the potential for novel researcher interactions
Hei also recognised that crops that received less scientific attention but remained important as regional staple foods, such as bananas and plantains (of the genus Musa), could benefit from comparative genomics research.
"We had a highly motivated group of researchers willing to devote their efforts to Musa," remembers Hei, who is currently IRRI Program Leader of Genetic Diversity and Gene Discovery.
"GCP's community could offer a framework for novel interactions among banana-related actors and players working on other crops, such as rice. So, living up to its name as a Challenge Programme, GCP decided to take the gamble on banana genomics and help it fly."
However, after four years, Hei found it difficult to maintain his GCP leadership role as well as keep on top of his IRRI work: "They said I was 50 percent with IRRI and 50 percent with GCP, but it is never like that in reality. I was always doing two jobs, or at least one-and-a-half jobs, and I didn't think I was doing a good enough job for either. I thought it was time for other people to come into GCP."
While Hei stepped down from a leadership role, he remained active working on GCP projects throughout the life of the Programme.
Hei says that during the last five years of GCP, a lot of technology to characterise genetic diversity evolved "to bring high-quality science to accelerate our mission to help the poor areas of Asia and Africa."
A MAGIC affair
The development of MAGIC (multi-parent advanced generation intercross) populations is the project that Hei gets most excited about. From these populations, created by crossing different combinations of multiple parents, plant lines can be selected that have useful characteristics such as drought tolerance, salinity tolerance and the ability to produce better quality grain.
"Now many crop breeders are calling for MAGIC populations," says Hei. "I feel proud that at GCP we decided to support this concept and activity. This is one of GCP's most important legacies and it's one of my most favourite things."
Honoured as a Fellow of the American Phytopathological Society (APS), Hei is recognised "for his leadership in the international community toward building and distributing rice genetic and genomic resources and creating capacity in plant pathology in the developing countries of Asia."
Hei's GCP leadership and research have clearly provided him with an important platform for taking on leadership and champion roles linking many individuals and organisations across Asia and Africa. His ASP profile concludes: "His promotion of collaborative research and his leadership in such programmes in the developing world have contributed to the building of a dynamic research community that promotes both basic knowledge and food security for Asia and the world."
Making a difference to food security and farmer's lives in developing countries is what GCP is all about. Such differences have been made possible through collaborative links that connect a diversity of organisations and people with the latest research in genetic diversity and breeding techniques.
It's amore!
Hei recalls his personal and professional journey with GCP with much affection: "I think that it has been a wonderful scientific journey in terms of knowing the science and opening up my mind to being more receptive to alternative ways of doing things.
"There have been so many friends I have met through networking with GCP. Sometimes you go through bumpy roads, but anything you do will have bumpy times. And it's very unusual to have a programme so illuminating. We honoured our commitment to finish in 10 years. It is a programme that had a fresh start and a clean ending.
"Most importantly, GCP has enabled plant breeders to embrace cutting-edge science through partnerships that focused on improving crop yields in areas previously deemed unproductive," he says. "GCP is unique, one-of-a-kind, and I love it!"
More links