Young Nigerian scientists often leave Africa and look for jobs with international research agencies overseas. But with the CGIAR Generation Challenge Programme (GCP)-funded Cassava Research Initiative (RI), two young nationals have been leading the international collaboration and injecting confidence into Africa's research capacity.
Leadership is a quality admired and consistently sought after, particularly when overcoming a challenge. Some leaders direct from afar; others rise through the ranks and work with their peers on the ground – winning respect from the people they lead as they get their hands dirty.
"If you want to work for the people, you have to walk with the people – that's an African concept," says Emmanuel Okogbenin, a plant breeder and geneticist at Nigeria's National Root Crops Research Institute (NRCRI). "Then when you work with the people, you really understand what they want. When you speak, they know they can trust you."
This powerful sentiment is one reason why GCP sought the collaboration of NRCRI in overcoming the challenge of sustaining Africa's, and indeed the world's, cassava production.
Having started as a small farm in 1923, NRCRI has taken giant strides to become one of Nigeria's best research institutes, contributing immensely to the country's economic development and making it the leading producer of cassava in the world. NRCRI Executive Director Julius Chukwuma Okonkwo says, "This would not have been attainable if not for the trust and support that GCP had in us when they made two of our young cassava researchers the leaders of an international collaboration."
The two researchers to whom Julius refers are Emmanuel and his colleague Chiedozie Egesi, also a plant breeder and geneticist at NRCRI. Their combined 36 years' of cassava research experience is matched by their passion to get the best out of Nigeria's main staple crop.
And they are happy to get some dirt under their fingernails. "It's just as important to work with the farmers in the field and understand what they want, as it is to do the research in the lab," says Emmanuel. "At the end of the day we need to please the farmers, as they are the ones who will be using the new varieties that we are developing to sustain their livelihoods."
Developing and leading Africa's cassava research
Between 2010 and 2014, both Emmanuel and Chiedozie led three different projects within GCP's Cassava RI, working with other colleagues in national breeding programmes in Ghana, Tanzania and Uganda, as well as the International Institute of Tropical Agriculture (IITA), the International Center for Tropical Agriculture (CIAT), the Brazilian Corporation of Agricultural Research (EMBRAPA) and Cornell University in the USA. The aim of the initiative was to use molecular-breeding techniques to accelerate the development of high-starch cassava varieties with resistance to diseases and tolerance to drought – and so ensure both food supplies and income for farmers.
Meet Chiedozie and Emmanuel in the video playlist below, learn more about cassava in Africa, and hear all about their research (or watch on Youtube):
Emmanuel explains that before GCP, "most African national programmes didn't really have established crop-breeding programmes, and didn't have the resources" to do the scale of research GCP assisted with. Nor did they have the capacity to use molecular-breeding techniques, which can potentially halve the time it takes to develop new varieties.
With help from GCP and CIAT, NRCRI was able to equip a new molecular-breeding laboratory, and staff were trained to incorporate molecular-breeding techniques into their breeding programme. "GCP was there not only to provide technology, but also to guide us in how to operate that technology," explains Chiedozie.
Julius points out that both Chiedozie and Emmanuel were also influential in disseminating this knowledge and, in turn, building and sustaining NRCRI's human capacity. "They both mentored many young scientists who have chosen a career in cassava and molecular breeding because of this."
With training and infrastructure in place, NRCRI led an international collaboration that in 2010 released Africa's first cassava variety developed using molecular-breeding techniques. Known as UMUCASS33 (or CR 41-10), it was resistant to cassava mosaic disease (CMD) – a devastating plant disease that can wipe out farmers' entire cassava crops – and also highly nutritious. This was swiftly followed by a second similar variety, CR 36-5, and supplied to farmers.
Between this landmark release and GCP's close in 2014, the cassava team had already released nearly 20 higher yielding, more nutritious varieties resistant to diseases and pests, and had begun working on developing drought-tolerant varieties.
These new and improved varieties – all generated as a direct or indirect result of his engagement in GCP projects – are, Chiedozie says, worth their weight in gold: "Through these materials, people's livelihoods can be improved. The food people grow should be nutritious, resistant and high-yielding enough to allow them to sell some of it and make money for other things in life, such as building a house, getting a motorbike or sending their kids to school." This social aspect is particularly pertinent in Nigeria, where these cassava varieties will have the greatest impact.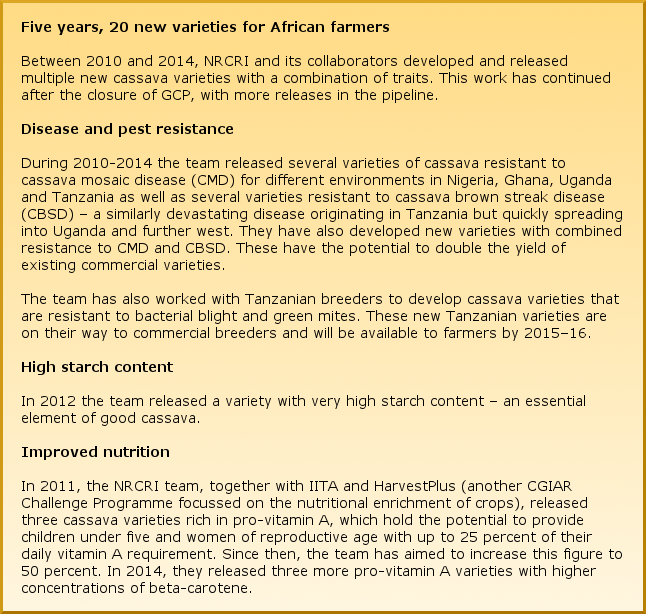 Feeding a giant
Nigeria is often referred to as the 'Giant of Africa'. It is the most populous African country, with over 174 million inhabitants. The population's main staple food is cassava, making Nigeria the world's largest producer and consumer of the crop. At the same time, the country imports almost USD 4 billion of wheat every year – a figure that is expected to quadruple by 2030 if wheat consumption continues to grow at the same rate it is today.
The government is wary of this 'overreliance' on imported grain and is working towards making the country less reliant on wheat by imposing a wheat tariff. It also hopes to boost cassava production and commercialisation by promoting 20 percent substitution of cassava flour for wheat in breadmaking.
"The government feels that to quickly change the fortunes of farmers, cassava is the way to go," explains Emmanuel, who liaises with the Nigerian Government to promote to farmers the benefit of cassava varieties with high starch concentrations. It is the flour from these varieties that is being used to partially replace wheat flour to make bread. GCP support has been crucial here too, in providing vital scientific information to the government. Emmanuel explains: "The tariff from wheat is expected to be ploughed back to support agricultural development – especially in the cassava sector – as the government seeks to increase cassava production to support flour mills."
Cassava offers a huge opportunity to transform the agricultural economy, stimulate rural development and further improve Nigeria's gross domestic product. In 2014, Nigeria's economy surpassed that of South Africa's to become the largest on the continent. By 2050, Nigeria is expected to rise further and become one of the world's top 20 economies.
Unfortunately, however, like many growing economies worldwide, Nigeria is still working to address severe inequality, including in the distribution of wealth and in feeding the country's expanding population.
It's a problem Chiedozie understands well: "Nigeria is an oil-producing country, but you still see grinding poverty in some cases," he says. "Coming from a small town in the southeast of the country, I grew up in an environment where you see people who are struggling, weak from disease, poor, and with no opportunities to send their children to school," he reveals. The poverty challenge, he explains, hits smallholder farmers particularly hard: "Urban development caught up with them in the end: some of them don't even have access to the land that they inherited, so they're forced to farm along the street."
For Chiedozie, the seemingly bleak picture only served to ignite a fierce determination and motivation to act: "Despite the social injustice around me, I always thought there was opportunity to improve people's lives." And thus galvanised by the plight of Nigerian farmers, Chiedozie promptly shelved his plans for a career in medical surgery and pursued biological sciences and a PhD in crop genetics, a course he interspersed with training stints in the USA at Cornell University and the University of Washington, before returning to his homeland to accept a job as head of the cassava breeding team, and – following a promotion in 2010 – to become Assistant Director of the Biotechnology Department at NRCRI.
Empowering African researchers
Emmanuel, who followed a similar educational route to Chiedozie, says both he and his colleague are exceptions to the norm in Africa, where African researchers tend to look for opportunities at international or private institutes rather than in national breeding programmes.
"It is difficult being a researcher in Africa," says Emmanuel. "We don't get paid as much as breeders in more developed countries, and funding is very hard to obtain."
Emmanuel says his proudest moment was when GCP was looking for Africans to take up leadership roles. "They felt we could change things around and set a precedent to bring people back to the continent," he says. "They appreciated our values and the need to install African leaders on the ground in Africa rather than in Europe, Asia or the Americas."
Jean-Marcel Ribaut, GCP's Director, says that seeking this local leadership was a novel approach for a transnational programme like GCP at the time, and proved to be an imperative feature for all GCP Research Initiatives. "The reasoning behind the approach is two-fold: Firstly, it's important that our national partners share in feeling ownership of the projects and outcomes; secondly, they are gaining experience in the role so they can continue to do so after the close of the Programme in 2014," he says. "We feel that most of our leading institutes, NRCRI included, are in a better position now than when they joined the project, and that this, along with their experience, has already gained them more exposure and funding opportunities."
This is indeed true of the NRCRI cassava team, which is engaging with the Bill & Melinda Gates Foundation, Cornell University, IITA and Uganda's National Crop Resources Research Institute in an initiative that Chiedozie promises will be at the front of cutting-edge technology. "We are still working out specifics, but it will see us continuing to use marker-assisted breeding techniques to develop higher yielding, stress-tolerant cassava varieties."
Chiedozie adds this would not have been possible without GCP, which helped them to develop their capacity in Nigeria and in Africa, and this has "created a confidence in other global actors, who, on seeing our ability to deliver results, are choosing to invest in us."
Continuing the momentum
One organisation that has been impressed by the work done at NRCRI is the CGIAR Research Program on Roots, Tubers and Bananas (RTB). RTB Director Graham Thiele has been following the work done at NRCRI since 2010 with great interest. "We have been really impressed to see a national programme like NRCRI playing a leading role in these successful GCP projects, and grow as a result of this," he says.
One area of research that has particularly impressed Graham is Chiedozie and Emmanuel's pre-emptive breeding for cassava brown streak disease (CBSD) resistance. "CBSD isn't currently an issue in Nigeria but it has the potential to wipe out all crops, as it has in Uganda and Tanzania, if it continues to spread west from these countries," he explains.
"What Chiedozie and Emmanuel are doing is using molecular markers, developed in collaboration with IITA, to search for genes in their varieties that confer resistance to brown streak virus. They can then use these when breeding for CBSD resistance without exposing cassava to the virus. It's very exciting and forward thinking, as normally people breed for resistance only when the disasters happen."
As GCP approached its sunset in December 2014, Chiedozie and Emmanuel were reaching out to RTB to seek funding to continue this and other projects they are currently working on. "They've already created some great varieties but have plenty more in the pipeline, so we want to help them finish this work and, most importantly, keep the momentum going," says Graham.
Chiedozie looks forward to the next steps with optimism, confirming that the new collaboration will continue in the quest to "give African farmers varieties of cassava that they will love to grow."
More links